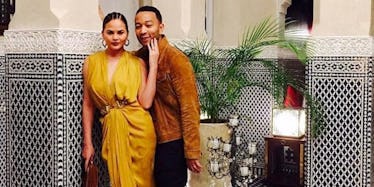 Chrissy Teigen And John Legend's Trip To Morocco Is Your New Travel Goals
Instagram
Next time you find yourself planning a getaway trip overseas with your significant other, you might want to stalk Chrissy Teigen's social media accounts for inspiration.
This weekend, the 31-year-old supermodel shared a handful of photos from her trip to Morocco with husband John Legend and their 11-month-old daughter Luna. Let's just say these pics help illustrate your new #TravelGoals.
Greetings from Morocco!
Chrissy Teigen and John Legend recently visited the exotic African city of Marrakech with baby Luna.
Teigen took to her Instagram account to share this adorable photo of her and Luna at a local market.
Can Luna even get any cuter?!
They make traveling with a newborn baby look way too easy.
I'm sure Luna's angel-like behavior helped.
The highlight of their trip might've been the moment John Legend hung out with a street performer and put a snake around his neck.
Actually, no... The highlight of their trip definitely had to have been the moment baby Luna was caught doing some "light vacation reading."
This isn't the first time Chrissy and John have visited Morocco together. According to E! News, the couple once celebrated John Legend's birthday in Morocco during the holiday season of 2015.
As for Luna, this isn't her first rodeo either. When she wasn't even 3 months old yet, Chrissy and John traveled with her to Italy. Yeah, I know. Casual, right?!
Before embarking on her Moroccan getaway, Chrissy Teigen made everyone hate their lives while she walked through the airport sporting a $13,000 outfit because, well, that's how you make a graceful exit.
The 31-year-old donned a $6,000 Gucci robe, a pair of Gucci pants worth $3,020 and a $4,500 black snakeskin handbag.
In other words, if Chrissy and John's latest trip is your ultimate #TravelGoals, you're going to need to have the #AirplaneOutfitGoals to match.
Bon voyage!
Citations: Chrissy Teigen and John Legend Travel to Morocco With Baby Luna and It's as Cute as You'd Expect (E! News)