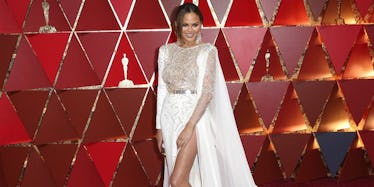 Chrissy Teigen Wears A $13,500 Outfit On A Plane While You Wear Stained Sweats
REX/Shutterstock
There is absolutely nothing about an airplane that is comfortable.
Trying to squeeze your legs into the small space underneath the chair in front of you while figuring out the best angle to attempt the crappiest nap of your life is definitely one of the higher layers of hell.
That's why I roll into the terminal looking like a literal monster in sweatpants I found on the floor of my closet and an old t-shirt that is comfortable but I would never wear in any social situation.
But clearly, Chrissy Teigen doesn't have the same airport outfit prep as I do.
The supermodel strutted into the Los Angeles International Airport on Thursday in an outfit that could pay my rent for the next year and a half. According to E! Online, Teigen's ensemble retails for a whopping $13,500!
I'll give her that it actually does look really comfy — I'd consider wearing a robe to the airport, too if I had a bit more confidence — but that's a lot of money for an outfit that's going to wind up wrinkled and covered in peanut crumbs after a few hours.
Still, I guess when you're a celebrity and the paparazzi is waiting for you at the airport, you kind of have to show up in something that looks good.
Apparently, that Gucci sweater-robe thing goes for $6,000, and the heels, aviators and Gucci pants all add up to $3,020. What puts it over the top is the $4,500 snakeskin bag.
She may have gotten extravagant with this airport look, but we all know Chrissy loves to keep it real when she's at home.
Just a couple days before that flight, the model reminded us on Instagram she looks just as amazing in a $6,000 robe from Gucci as she does in a generic green bath robe.
Now THAT looks a lot more like something I would wear to the airport. Bucket of KFC included.
Citations: If You Want Chrissy Teigen's Airport Outfit, You'll Need $13,500 (E! Online)