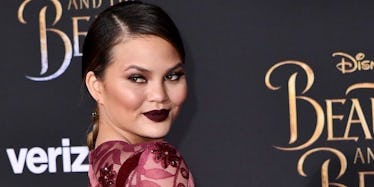 Chrissy Teigen Lashes Out At Fox News For Tagging Her In Tweet: 'I Detest You'
REX/Shutterstock
How many tweets from Fox News does it take to piss Chrissy Teigen off? Just one.
The 31-year-old supermodel did not mince her words after Fox News' official Twitter account tagged her in a tweet about leggings. The publication ran a story about celebrity reactions to United Airlines banning leggings on flights.
Teigen, among other celebrities, was included in the story. When Fox News tagged Chrissy Teigen's Twitter handle in the tweet promoting the story, let's just say she told them how much she can't stand them.
Here's Chrissy Teigen's original tweet about United Airlines banning leggings from flights.
Fox News included Teigen's tweet in their story about celebrity reactions to United's controversial ban.
So, how did Chrissy respond? Like an unforgiving boss would. Teigen replied,
I respectfully ask you please don't ever tag me in anything, ever. Words cannot explain how much I detest you.
Yeah, she actually said that!
Behold Chrissy Teigen's tweet basically telling Fox News to get lost.
Damn, she was so classy about it, too (she said respectfully).
Leave it to Chrissy Teigen to keep it real AF even when a major news network is giving her voice a platform.
It just doesn't get any more real than that, my friends!
If you thought she was going to get away with saying that and NOT received backlash from Fox News-loving trolls, you're WRONG.
They were not going to let that shit slide...
Not for a second!
It's almost as if they all forgot how much Chrissy DGAF.
Yup, she really DGAF.
And don't forget she's got her own troll army, too.
They were out in full force to combat the loyal Fox News fans.
Basic logic will always beat brainless name-calling.
Oh, and once again...
In other words, you're going to need to try a lot harder if you're looking to upset this woman.
Seriously, though, let's just all be friends and keep the peace. After all, this is United Airlines' fault.
They're the crazy ones here. Whether leggings are considered pants or not, who doesn't like a good yoga booty? Don't lie to yourself.
Citations: Chrissy Teigen Told Fox News To Screw Off After They Tagged Her In A Tweet (BroBible)