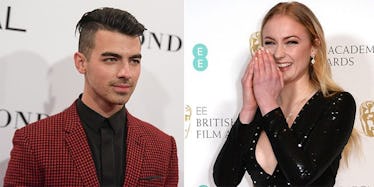 Sophie Turner Caught With A Very NSFW Note On Her Hand About Joe Jonas
REX/Shutterstock
The hand stamp is the new engagement ring.
DNCE frontman Joe Jonas and "Game of Thrones" star Sophie Turner couldn't escape the paparazzi this week, and wouldn't you know it, ol' Soph is photographed sporting the trend.
Her hand stamp reads, "Joe gives me da good good."
Just like an engagement ring, the hand stamp usually denotes ownership of one individual by another and is worn by only one member of the relationship (usually a woman).
Unlike an engagement ring, it is not visually stunning or monetarily expensive.
This hand stamp is a big step for Joe and Sophie, who have been dating since November, but it comes as no surprise. These two have been into each other — like INTO each other — for months.
According to a source for People,
She's always been into him, but he's starting to like her more and more.
The idea that Joe needed time to "come around" to a gorgeous, accomplished younger woman is little infuriating — especially considering his facial hair decisions and basically all of "Cake By The Ocean" — but he's on board now.
Another source shares  the same sentiment, saying,
He was playing the field, but he really likes her and is willing to settle down for her.
Well, that was fast.
When Joe isn't graciously giving up the good good, he's brainstorming "Camp Rock" revival ideas with ex Demi Lovato.
He claims he'd be open to filming an "adult" version of the Disney Channel Original Movie, according to an interview with Marie Claire.
Joe says in the interview,
If it made sense, sure. For all of us — Demi, Nick, it would be funny to do a spin on it. Do the graduating days, make it kinda dark, an adult film. Well, not an adult film, an R-rated film. We've joked around about the idea a couple times.
A sexier summer camp musical?
Sounds good, Joe. Sounds good good.
Citations: Sophie Turner Stepped Out with a NSFW Message to Joe Jonas Scrawled on Her Hand (Marie Claire)