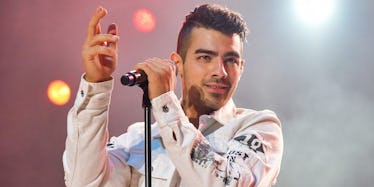 Joe Jonas' Sweaty Abs Are The Real Stars Of His Sexual Workout Photo
REX/Shutterstock
So Joe Jonas just can't seem to keep his shirt on these days, huh?
Not that I'm complaining of course, because, um, yeah, wow.
But seriously, he really has not been shy about flashing those abs to the world recently.
Just a few weeks ago, we had those beautiful, beautiful photos from the GUESS underwear ad campaign with Charlotte McKinney, which I am still thanking our lord and savior in heaven for delivering.
And the 27-year-old DNCE singer is back at it again, with more shirtless, sweaty pics. On Wednesday night, he blessed us all with this workout photo on Instagram.
Oh, yeah. Those abs are NICE and glistening all right.
Joe wrote in the caption,
Put me in coach @avaknightboxing @dennisleupold.
The photo was taken at Unbreakable Performance gym in Los Angeles, and in it, Joe is working with WBC Boxing Champion Ava Knight Salicka.
So I guess Joe boxes now?
It kind of makes sense, considering his brother Nick plays an MMA fighter in that TV series drama "Kingdom."
Not to mention the fact that Joe has been pretty friendly with his ex Demi Lovato recently, and she's dating MMA fighter Guilherme "Bomba" Vasconcelos.
Apparently Joe has been working with Ava for a few months now. In fact, that's how he got into such great shape for the GUESS shoot.
(Again, thank you God and also Jesus.)
But also, can we talk about the fact that Joe Jonas apparently takes a professional photographer with him to the gym?
In the Instagram post he linked to Dennis Leupold, an LA celebrity photographer who has worked with people like Rihanna, Sarah Paulson, Jennifer Lopez, Sebastian Stan and more.
So... Joe just straight hired this well-known photographer to follow him to the gym.
I mean, I'm not blaming him. If I had those abs, I'd probably do the exact same thing.
And hey, who knows, maybe the full shoot is coming out in a magazine later or something. We can only pray that it will.
Citations: Joe Jonas Flashes His Insane Abs in Sexy Shirtless Pic (Entertainment Tonight)