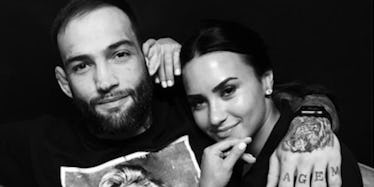 Joe Jonas Likes Romantic Instagram Of Demi Lovato And BF, Is Least Relatable Ex
Instagram
Demi Lovato's not thinking about Wilmer Valderrama, and she's certainly not thinking about Joe Jonas.
She doesn't have time for either of her exes, not when she's got MMA fighter Guilherme "Bomba" Vasconcelos to cuddle up next to.
But apparently, Joe Jonas has time to think about Demi because he liked (and then unliked) an Instagram of his ex and her new boo.
Breakup goals, I guess?
On Wednesday the 30-year-old Brazilian martial artist posted a very cozy-looking picture with Demi on Instagram.
I don't know about you guys, but this photo pretty much screams "couple" to me.
And, on top of that lovey-dovey cuddling, Demi herself commented on the photo with three -- count 'em, three -- kissy faces.
She also wrote, in her self-deprecating Demi way,
I look like I'm falling asleep.
(Shut up Demi, you look amazing and you know it.)
There were rumors of Demi and Vasconcelos dating back in summer. The two first met when they were working out at the same gym in West Hollywood, California.
Apparently, that meeting involved Demi hitting the MMA fighter hard enough to make him bleed.
Vasconcelos wrote,
After I sparred with a legend @xcnatch.. The one who hit my lip and made me bleed was @ddlovato hehehe..
Isn't physical violence romantic?
Anyways, here's where things get interesting: Joe Jonas, who briefly dated Demi back in 2010, liked this new photo of his ex and her new man, according to a report from Entertainment Tonight.
There's even the screenshot to prove it.
However, upon further investigation (read: searching the likes on the photo on the Instagram mobile app), it seems Joe has un-liked the photo.
So what does it mean?
Most likely, it means that Joe saw that his silly little Instagram like was getting some press, and out of sheer spite, un-liked it. (Sorry, Joe!)
I mean, the whole reason Demi and Vasconcelos were together is because they were in the audience at Joe's DNCE concert in Los Angeles on Wednesday, so clearly everyone's very cool with the situation.
Well, if I ever break up with my boyfriend, I can only hope we end up on as good of terms as Demi and Joe.
Citations: Demi Lovato's New Boyfriend Shares Romantic Pic (Refinery29)