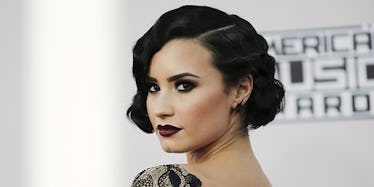 Is This MMA Fighter The Man Demi Lovato Has Been Hooking Up With?
REUTERS
If Demi Lovato really is dating this competitor, then she has a man who could literally fight for her love.
According to Us Weekly, Demi has been hooking up with Guilherme "Bomba" Vasconcelos, a 30-year-old welterweight MMA fighter from Brazil who has a 3-2 record in UFC and last competed this past month for another promotion.
The report paints the picture of classic rebound situation, with the magazine citing a source who claimed Lovato and Vasconcelos aren't serious.
The source is quoted as saying,
[Demi is] just having fun. Demi's still looking to meet new guys.
The two apparently work out at the same gym, the Unbreakable Performance Center in West Hollywood, California (which, by the way, is impressive for Demi Lovato if that means she can keep up at a place where MMA fighters train).
Any who, no write-up on a celebrity's potential bae is complete without the proper scouting report, and we all know the "scouting report" for our generation is a lineup of Instagram pics.
So, here's Vasconcelos.
His next fight is on Sunday night...
...and he's not exactly unfamiliar with hanging out with celebs, like Odell Beckham Jr.
I wonder if he ever gave Demi one of these training sessions...
Wait, it looks like the answer is yes!
Well, whether or not the two are more than friends, with Demi Lovato having recently experienced a breakup with "That '70s Show" star Wilmer Valderrama, it looks like either this guy or his gym helped Demi get the perfect revenge body.
Yup.
Citations: Demi Lovato Is Hooking Up With MMA Fighter Guilherme 'Bomba' Vasconcelos (Us Weekly)