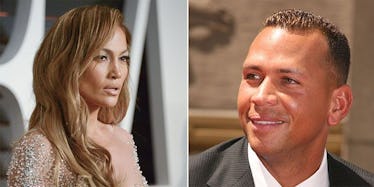 JLo And A-Rod Are Apparently Taking Their Relationship To The Next Level
REX/Shutterstock
Jennifer Lopez and Alex Rodriguez are allegedly talking about getting married, because it's 2017 and nothing matters anymore.
This is like the seventh time I've written about this couple, and each time I feel obligated to point out that I think A-Rod is a huge piece of trash.
I'm a Mets fan who grew up in a sea of Yankees fans, so what am I supposed to do? Yup, that and the fact that Alex is a nationally hated figure who tarnished the game of baseball and couldn't tell you what the definition of ethics is if you handed him a dictionary beforehand have led to me praying for this relationship to end.
The sad truth, though, is that it likely isn't ending anytime soon. In fact, it's closer to becoming permanent than anything else.
According to a source close to JLoRod,
They've been talking about the future and, of course marriage has come up. They aren't making wedding plans, but they have been talking about their lives.
WEDDING?!?! MARRIAGE?!?! ARE YOU EFFING SERIOUS WITH THIS?!?!?
The source went on to say A-Rod "is very charming and good to Jennifer... She hasn't felt this way about anyone in a long time and [her family is] very excited for her."
So, just three months into dating Alex and just four months after doing mystery stuff with Drake, JLo is ready to call it quits and hunker down with the man who tried to win a World Series by pulling THIS grade-school bullcrap.
HIM?!?!
The couple met back in January after A-Rod called it quits with long-time girlfriend Anne Wojcicki. After waiting a comically short amount of time to get back in the saddle, Alex attended one of JLo's shows in Vegas, hopped backstage to meet her and snagged those digits.
According to the source,
Alex swooped right in there… It was perfect timing… He swept her off her feet.
Reportedly, he sent her a bunch of texts and flowers to make sure she wouldn't try and backslide into Drake's arms.
Smooth move. You're still a terrible person but you definitely have tact, Alex.
Citations: Jennifer Lopez and Alex Rodriguez Are Talking About Marriage (Us Weekly)