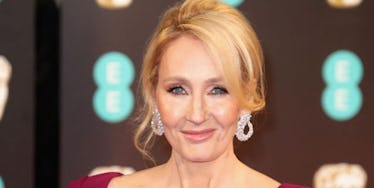 J.K. Rowling Just Dragged Tomi Lahren On Twitter, So 10 Points To Gryffindor
Chris Jackson/Getty Images
In case you missed it, Trump has banned transgender people from serving in the military, incorrectly and immorally calling them a "burden." There have been a lot of celebrity reactions to Trump's trans military ban this week, but none have been as amazing as J.K. Rowling's tweet about Tomi Lahren.
Tomi Lahren used to host a conservative show (to say the least) called The Blaze on YouTube and went viral on social media many times because of the controversial comments she made during the "Final Thoughts" segment of each episode.
Lahren was fired from hosting The Blaze earlier this year after revealing her true thoughts about abortion, so her comments are now solely allocated to Facebook Live streams on her personal page and tweets like the one she shot out today.
It's almost as if J.K. Rowling knew we needed a hero to call out Lahren, so she put on her hero hat that she wears so well and reminded us why she's one of the reigning queens of Twitter (along with Chrissy Teigen, of course).
I really hope Lahren isn't a Harry Potter fan because if she is, her heart just got broken into a million pieces. Lahren's tweet reacting to Trump's trans military ban said,
Pres Trump dedicated to putting radical Muslims in graves whereas Pres Obama dedicated to putting men in the ladies room. #MAGA
Rowling quoted her tweet, and said,
Truly, whom amongst us can forget Trump ordering the killing of bin Laden? Or Obama bragging about barging in on naked beauty contestants?
TEN POINTS TO GRYFFINDOR! Last time I checked, it's not a bad thing that President Obama ensured transgender Americans were protected by the law, but I guess that's a matter of opinion. Trump, on the other hand, has been in office for six months and has not passed one single piece of meaningful legislation.
God, nothing on this earth makes me happier than J.K. Rowling trolling people on Twitter. This isn't the first or the last time (I hope) Rowling has called Trump and his supporters out on Twitter.
Ever since the news of the trans military ban was announced, Rowling has been denouncing Trump's decision on Twitter through retweets and tweets of her own. Earlier today, she retweeted a post from the @VoteVets account that featured a photo of what appears to be Arlington Cemetery that said, " @POTUS, can you [sic] spot the transgender troops in this photo? They're there, I promise."
Following his bombshell announcement yesterday, Trump also tweeted a video about religion (separation of church and state, eh?) with a caption that read (in all caps, no less), "IN AMERICA WE DON'T WORSHIP GOVERNMENT - WE WORSHIP GOD!"
Rowling quoted the tweet and said, "You know that isn't really your name, don't you, Donnie?"
TEN MORE POINTS TO GRYFFINDOR, AND NONE FOR SLYTHERIN, BYE.
Tomi Lahren hasn't said anything in response to Rowling's tweet, but I'm really excited to see if she tries to come up with a response to J.K. freaking Rowling.