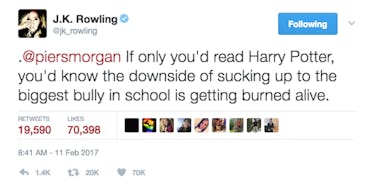 JK Rowling Totally Shuts Down Piers Morgan After He Bashes 'Harry Potter' Books
Twitter
JK Rowling is at it again with the expert Twitter trolling. And this time, she's taking down British journalist and TV personality, Piers Morgan.
It all started with a tweet.
Early Saturday morning, Rowling tweeted in reaction to Morgan's appearance on "Real Time with Bill Maher." Comedian Jim Jefferies told Morgan to "fuck off" after he said "there is no Muslim ban." (There is.)
Poor, little Piersy didn't like that, so he responded to Rowling's trollings (petition to change her official Twitter name to "JK Trowling"... I'm sorry) by saying her tweet is the exact reason he's never read any of the "Harry Potter" books.
That, ladies and gentlemen, is what we call a "stretch."
Let me break it down for you, Piers, because I think you're confused: You can't credit a tweet from 2017 as the sole motivation behind why you never read a book series that came out in the '90s.
You're just pissed off that a woman who is lightyears more intelligent and successful than you is calling you out on your bullshit.
Poor guy. So fragile.
Rowling, never one to let idiots get away with being idiots, clapped back and was like, "You are stupid, your logic is flawed and I am laughing at you. Here are X reasons why."
God, I love this woman.
Rowling and Morgan then went into a Twitter duel, just like the one in "Harry Potter and the Chamber of Secrets" where Draco is like, "Scared, Potter?" and Harry's like, "You. Wish."
TAKE HIM DOWN, JO. YOU ARE HARRY. HE IS DRACO. EXCEPT PIERS MORGAN HAS NO REDEEMING QUALITIES LIKE DRACO KINDA DOES.
Draco is an OK guy, OK? Like, he's fine. By the end of the books he's, like, cool. Did some bad shit, but we cool now.
PIERS MORGAN IS NOT COOL LIKE DRACO NOW.
But for the sake of this article, JK Rowling is Harry, Piers Morgan is Draco. Got it? Great. Glad we got that settled. Moving on.
Here's how the duel played out:
WANDS AT THE READY.
Piers Morgan: "Everything I said was factual."
Narrator: "Everything he said was NOT factual."
TELL HIM, HARRY. Uh, JK. I mean JK.
LMAO, he's literally trying to mansplain JK Rowling.
Do you really want to talk about superiority complexes and arrogance? Piers, do you know who you are?
YA, JO. HIT HIM WITH THAT STUPEFY.
JK Rowling literally has more money than the queen of England and created the most popular book/movie franchise in history, but sure, she's a "minor celebrity."
Hmmm, sounds familiar.
Morgan — who is an avid Trump supporter, in case you couldn't tell already — deleted the tweet she originally quoted here, but it was most likely the tweet he wrote saying, "Would you like me to explain why all your political views keep being defeated at the ballot box?"
BURNNNNN. (Get it?)
I thought you didn't read "Harry Potter," Piersy? What's with the Dolores Umbridge reference, huh?
Rowling had quite enough after that, so instead of responding to his tweets, she just started trolling him outside of his mentions.
First, she retweeted this article a fan posted that was literally written by Morgan and makes a shit ton of "Harry Potter" references. So, like, he definitely has at least watched the movies.
Then she tweeted a screenshot from an article reporting "Harry Potter and the Half-Blood Prince" had won Book Of The Year, beating out Morgan's autobiography. Sad!
Rowling fans tweeted in support of the author.
Wow, Piers. You're such a martyr.
Morgan tried to act like he wasn't completely dragged through the mud by Rowling by tweeting a picture of him and Trump together.
Cause THAT'S impressive.
Sorry, Draco. Nobody cares that you're buddies with Lord Voldemort.
Looks like Morgan needs a nice, long trip to the hospital wing so Madam Pomfrey can apply ice to his burned areas.