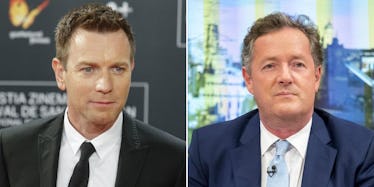 Ewan McGregor Shuts Down Piers Morgan's 'Men's March' Like A True Feminist
REX/Shutterstock
I know you might be feeling like all men are terrible right now, and, like, MAYBE they are. But, Ewan McGregor is trying to prove you wrong.
The beloved actor refused to attend a previously scheduled appearance on "Good Morning Britain" this morning with Piers Morgan because of the host's recent tweet blasting feminists and the Women's March, which took place Saturday, January 21 in D.C.
According to Mailonline, Morgan was reportedly upset by singer Madonna's comments about "blowing up the White House," and he took to social media to blast protestors as being "whipped into a man-hating frenzy by some very nasty women."
Yikes. Nothing like being called rabid to mix with your morning coffee, you know what I mean?
McGregor, who was scheduled to promote "T2 Trainspotting," the sequel to the original "Trainspotting," caught wind of the aggressive tweet and backed out of the appearance last minute, writing on Twitter:
Was going on Good Morning Britain, didn't realise @piersmorgan was host. Won't go on with him after his comments about #WomensMarch.
DREAMY.
Also, THANK YOU, EWAN.
Not surprisingly, McGregor was quickly met with pushback from Morgan, who called the actor a "coward" and pretended to cry about the cancellation on TV.
Despite what you might have learned in middle school, this isn't a way to make people like you or want to come on your show.
Morgan stated, "I'm about to cry, Ewan McGregor doesn't want to come on the sofa with me."
He added later,
We're presenting an award tomorrow. I hope it's for best actor, and I hope Ewan wins – if he does, I'm going to shove the award where the sun don't shine.
I get it! He means his butt!!! Good one, Piers!
Morgan also accused McGregor of being "just an actor after all" and suggested, if he were a real man, he would have attended the show to debate it on air. Very classy.
Catch Morgan's commentary in the video below.
McGregor, in his true, mysterious, aloof style, has remained silent since his initial tweet and is not one to be provoked or gaslit.
In related feminist dream boat news, McGregor is not the only celebrity to stand in defiance against Morgan's outrageous message.
Comedian Patton Oswalt took to Twitter as well to post some hilarious, sarcastic responses using #MensMarch to mock Morgan:
Of course, none of us need a man to make us happy, but if we did, we'd take Ewan or Patton any day.
Citations: Piers Morgan hits back after Ewan McGregor CANCELS his Good Morning Britain appearance 'because he disagrees with his Women's March protest comments' (The Daily Mail)