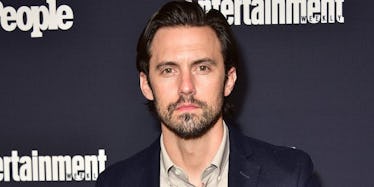 6 Pictures That Prove Milo Ventimiglia Is The Hottest Guy On The Planet
Brian Killian/Getty Images
Whether you know him as angsty Jess Mariano on Gilmore Girls or the loving Jack Pearson on This Is Us, it's certain that Milo Ventimiglia is totally irresistible.
He is so insanely hot, but in a low-key kind of way. Like, here I am just living my normal life when all of a sudden, Bam! I'm hit with a shirtless picture of him in my feed. Good for you, Milo.
Below are six pictures that prove he is the absolute hottest man to walk the planet.
1. 40 Never Looked So Good
Milo Ventimiglia is 40. That's four-zero, in case you're not understanding. He's like a fine wine that gets much, much better with age.
2. Back Then
Is there a hotter bad boy than Jess Mariano? Nope. Move aside, Damon Salvatore. He was unobtainable boyfriend goals before I even understood what that was.
He played Rory's second boyfriend that made all fans swoon. Ventimiglia was surprised about the attention Jess got. In an interview with W Magazine he said,
Still to this day, you know, it blows me away — the impact of the Jess character, how much everyone was in love with him and wanted to find a guy like Jess. He was kind of trouble you know...
3. Fan Favorite
He is so good to his fans. Twitter is crawling with silly pics of him and his fans. This would lead me to believe he is as nice as he is handsome. Some people have all the luck.
4. That 'Stache Tho
You would think the straight up 'stache might deter me. It doesn't. We all received a knife through the chest when Jack died, but that only made us love him more. Ventimiglia's favorite fan theory about how Jack died: Miguel killed him.
5. Ultimate Goals
Milo, can you just stop being perfect? No? OK. Shirtless or in suits (swimsuits *wink, wink*), he knows how to work it.
6. Mr. Right
He plays the perfect TV hubby. Ventimiglia divulged to Variety that he was not who the producers and directors were originally looking to cast. He shared,
They wanted somebody completely different. I walked in with my beard and my long hair and set my motorcycle helmet down and they went, 'Who is this guy?'
I seriously could not imagine anyone else playing Jack. Ventimiglia continued,
I was just trying to be just a man existing as a man, and here's this man who's just trying to provide for his wife and his family and all of that. It was so simple and beautiful that I thought, 'I'd just love to do it. I'd love to be a part of it.'
Next time you need a little eye candy, look no further than Milo Ventimiglia.