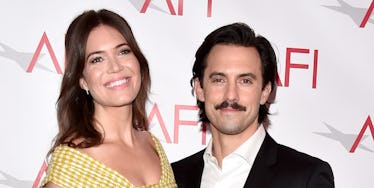 Mandy Moore's Adorable Birthday Tweet To Milo Ventimiglia Will Make You Ship Them IRL
Alberto E. Rodriguez/Getty Images
Happy birthday, Milo Ventimiglia!
The This is Us star turns the big 4-0 on Saturday, (which means he's a Cancer, for those of you who are checking out how compatible you may be). Fans were, of course, sending him out sweet and thoughtful birthday wishes on social media — but one stood out from the rest. Among the well-wishers was Ventimiglia's on-screen wife, Mandy Moore, whose adorable message will make your heart thump just a little louder.
Oh man. This message could not be sweeter. That photo! Those smiles! The soft lighting and exposed brick! Just the way that they genuinely look like they're happy and enjoying each other's company. The only way you can get that much genuine emotion out of me on camera is if you wave a cheeseburger under my nose.
Ugh. It makes it so much harder to remember that they're real people and not, actually, Jack and Rebecca Pearson, totally meant for each other.
It's no secret that the two's chemistry is so good that fans want them to get together in real life.
After the season finale back in March, Moore told Entertainment Tonight that she was totally OK with it if fans were shipping the two. "I'll take that!" she said. "That makes me feel good, because we're doing our jobs!" Sure, Mandy, play it cool. Play it like it's just work and you're not meant to be together forever.
With just over two months before the September 26 premiere of the second season of This Is Us, this is almost cruel. Don't tease us.
Ventimiglia hasn't responded to the cute message directly (I get it, you're playing it chill), but he did tweet out his own birthday photo.
It was a little more sassy and a little less sweet than his co-star's.
Hardly over the hill, Milo. You're making 40 look great. Besides, you can always just jump back in the timeline.