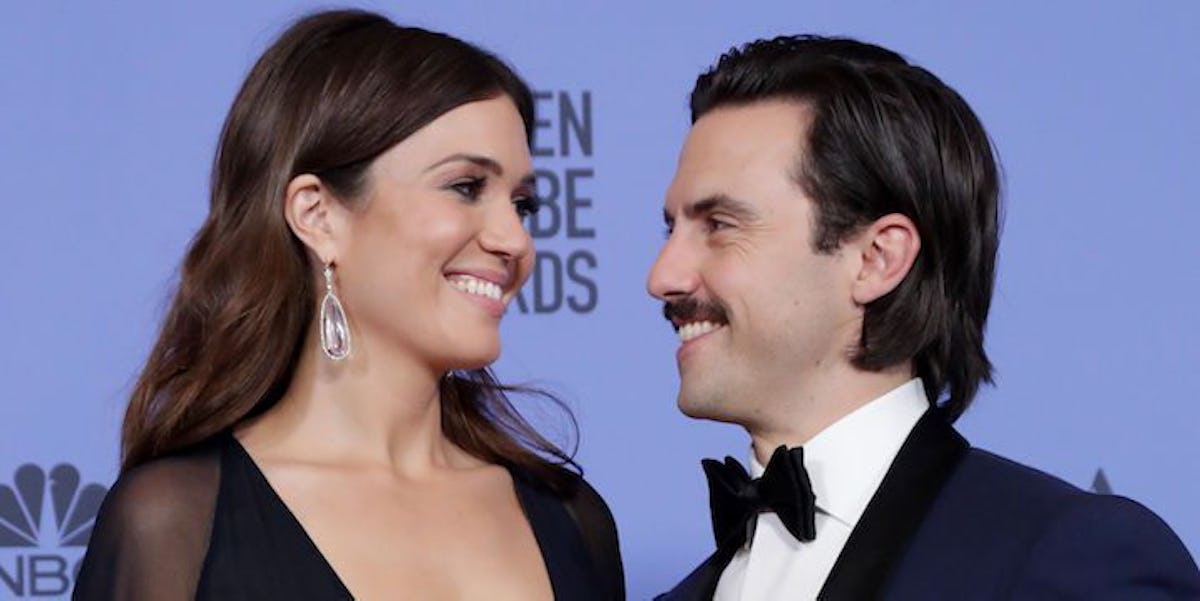 Mandy Moore And Milo Ventimiglia Respond To 'This Is Us' Fans Shipping Them IRL
REX/Shutterstock
Warning: Mild spoilers for the season finale of "This Is Us." Like, they're not that bad, but still. Proceed at your own risk.
Look, I don't want to tell real people what to do with their real lives, but Mandy Moore and Milo Ventimiglia need to start dating immediately.
Sorry, but that's just what ya gotta do after you have THAT much on-screen chemistry together. I think it might even be a law.
Obviously, I'm not the only fan who feels this way. In fact, so many people feel this way the news got back to Mandy Moore herself.
In a recent interview with Entertainment Tonight, the 32-year-old Rebecca Pearson actress said if fans want to ship her with her co-star, she's totally cool with that. In fact, she's pretty into it.
Mandy said,
I mean, hey, I'll take that! That makes me feel good, because we're doing our jobs!
OK, phew, I'm glad Mandy Moore doesn't think I'm a big weirdo.
Now she's only adding fuel to the shipping fire, especially after she posted this Instagram photo with Milo on Wednesday, following all the reactions to the finale that started pouring in.
Mandy wrote,
I stand in awe of this friend of mine. He is the ultimate partner in crime and he absolutely knocked it out of the park on every level in last night's finale. I am the luckiest. Can't believe we have 18 behind us and at least 36 ahead, Mi. Wow.
OK STOP, YOU CAN'T SAY THOSE KIND OF THINGS AND THEN JUST NOT DATE!
Mandy also went on to address some of the, um, frustrations, fans have been expressing over the finale — namely the fact that we still don't know how Jack died.
(Who, me? No, I wasn't one of those fans! OK fine, yes I was.)
Mandy wrote,
And for those somehow frustrated with the finale not revealing how Jack passed, I would encourage patience. Otherwise you might be watching the wrong show. Last night was fundamental to the bigger picture. The story deviated and ultimately landed on (I think) a more compelling question... what was the state of this relationship in the end? And as Milo so eloquently stated, let's focus on how the man lived! Stay tuned cause it's all leading somewhere and we're just getting started.
(She is referring to Milo's interview with Jimmy Kimmel, where he encouraged fans to stop focusing on Jack's death.)
Ughhhh fiiiiiine.
As she said, there will be a season two and a season three, and NBC ordered 18 episodes for each.
So fine. I will be patient, Mandy, I promise. But only if you promise to keep being cute with Milo.
Citations: EXCLUSIVE: Milo Ventimiglia and Mandy Moore Respond to 'This Is Us' Fans Wanting Them to Date in Real Life (Entertainment Tonight)