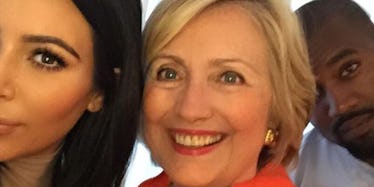 Even Hillary Clinton Has An Opinion On Kim Kardashian's Armed Robbery
Twitter
Even presidential candidate Hillary Clinton feels for Kim Kardashian after the terrifying robbery that took place at Kim's hotel in Paris, France earlier this month.
In an interview with Extra reporter AJ Calloway on Wednesday, the secretary of state expressed her concern and said,
I felt really bad for her.
It's hard not to feel bad for the mom of two, after she had $10 million worth of jewelry stolen from her while she was tied up, gagged and held at gunpoint.
The democratic nominee also commented on Kanye's dedication to his family, proven when he stopped a show in New York City after hearing the news.
Her husband was in the middle of the concert and he ran offstage, bless his heart. It's horrible. I'm just glad nobody was hurt.
After hearing the news, Kanye canceled and rescheduled two of his tour dates to be with his family.
While no one was harmed during the incident, Kim was understandably left "badly shaken."
She's been absent from social media, which is honestly incredibly bizarre for her -- she's constantly updating us on her life normally. However, we can imagine she feels the need for more privacy following the robbery.
According to Kim's best friend Jonathan Cheban, the "Selfie" author still isn't doing great.
I'm sure the support of all of her fans, as well as the support of Hillary Clinton, means a lot to her, especially because many are accusing the Kardashians of fraud. Ugh.
Kim recently endorsed the former First Lady on her website. The two actually go way back. Just check out some of the epic selfies they have together.
French police are still investigating this case. We can only hope Kim will feel comfortable enough to return to the world of social media soon.
Citations: US Weekly