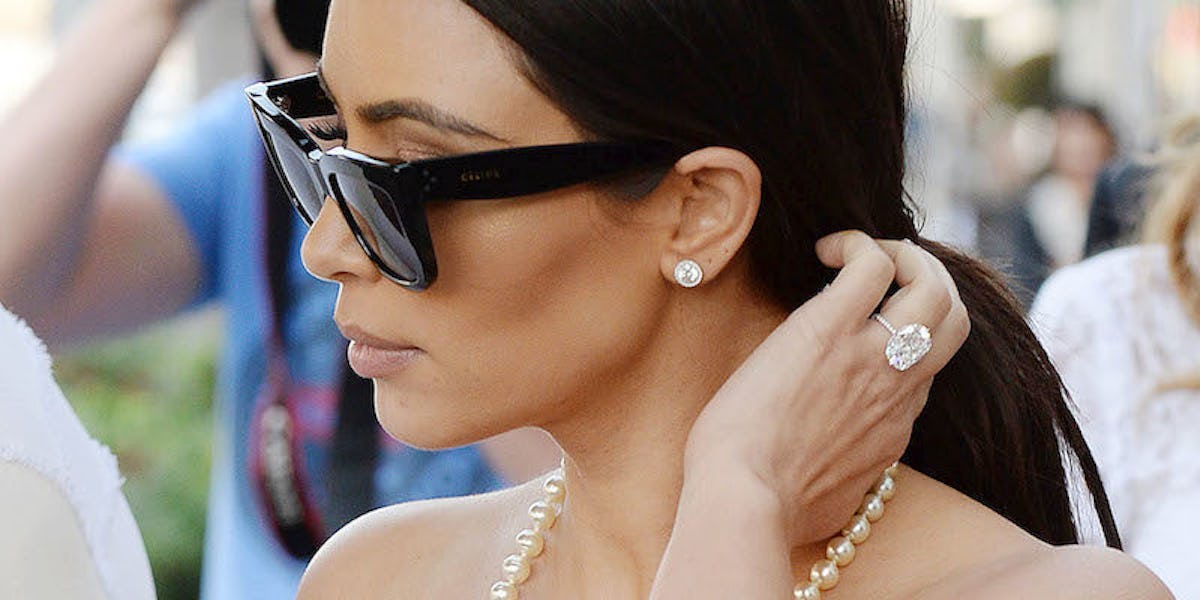 Kim K Called Out By Supreme Court Justice Who Thinks Robbery Was A 'Fraud'
REX/Shutterstock
It's been just two days since Kim Kardashian was allegedly robbed at gunpoint in Paris -- and it's all anyone can talk about.
The 35-year-old star had reportedly been inside her room at an upscale Paris hotel. She was wearing nothing but a robe when she spotted two masked men on the other side of a sliding-glass door.
That's when she rolled onto the ground and attempted to call a member of her security team.
The phone was reportedly knocked out of her hand by one of the assailants before the men tied Kim up and apparently dragged her into a bathroom.
After placing her into the bathtub, Kim Kardashian feared that she might be raped. However, she did make it out of the ordeal unharmed after the men fled the scene with about $10 million in jewelry.
The stolen jewelry included a pricey ring Kanye West had just gifted Kim.
Since then, the Kardashian family has beefed up their security detail and Kim herself is now back in the United States from her chaotic Paris trip.
Still, many people are beginning to speculate whether or not the robbery was even real, or if it was simply a fabricated publicity stunt of some kind.
The most recent news surrounding the Kim Kardashian robbery story? The Supreme Court doesn't seem to be buying into it.
According to TMZ, the Supreme Court of the United States had been hearing a case involving a California-based man who unlawfully drained someone's bank account.
The man argued that the crime he committed wasn't a crime and wasn't bank fraud simply due to the fact that the bank's money is insured.
That's when Justice Stephen Breyer used the Kim Kardashian robbery story in the discussion, asking,
Even Kardashian's thief, if there is one, believes that all that jewelry is insured. So, it's not theft?
Breyer then asked if Kim's robbers posed as jewelry cleaners, would their crime still be considered fraud. The man has a point.
Justice Stephen Breyer then went on to hint that Kim's jewelry might have been loaned to her or might not even have belonged to her, insinuating that the "robbery" wasn't an actual robbery.
This isn't the only person who thinks Kim and Ryan Lochte might have something in common. A private investigator named Patricia D'Orsa-Dijamco spoke to reporters, saying,
How did Kardashian free herself from being tied up in the bathroom? Or who found Kardashian in the hotel room or bathroom? Where was her security and hotel security personnel or hotel security cameras. If this was a publicity stunt, she could be in big trouble for making a false police report. Does 'Ryan Lochte' sound familiar?
Hey, you can have your opinions on Kim's situation, but keep in mind that details are still coming to light. We'll just have to wait and see where this goes!
Citations: Kim K. Robbery Supreme Court Justice Throws Major Shade (TMZ)