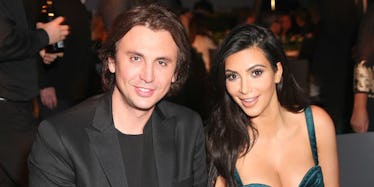 Kim K's BFF Jonathan Cheban Seen Bringing Her Gifts: 'She's Not Doing So Good'
Rex/Shutterstock
Kim Kardashian still isn't 100 percent after her run-in with armed robbers early Monday morning.
From what we know, Kim Kardashian was bound, gagged and locked in a hotel bathroom sometime early Monday morning in France.
The robbers proceeded to get away with $10 million in jewelry, including Kim's $4 million ring.
The robbers haven't been caught, but Kim is back in New York with Kanye, who famously left to be with Kim in the middle of a concert.
Kim and Kanye are now hiding out in an apartment and still reeling from Monday's events, only being joined occasionally by close family and friends stopping by to give their support to the 35-year-old mother of two.
Long time BFF Jonathan Cheban was one of the visitors to the apartment today.
Although he didn't give any specifics on Kim's condition or any developments regarding the incident, he did mention that she clearly hasn't fully recovered.
While walking out of the apartment, Cheban quickly mentioned,
She's not doing so good.
Cheban is not the only Kardashian-West family friend to stop by the apartment since she arrived in New York.
Knicks small forward Carmelo Anthony's wife, Lala Anthony, was spotted paying a visit to the E! star's apartment on Monday afternoon.
Simon Huck was also spotted visiting Kim earlier this week.
There hasn't been a ton of developments since the initial reports came out about Monday morning's incident.
French police are still investigating the case.
A spokesperson for Kim confirmed the events had taken place during an interview with E!, saying,
Kim Kardashian West was held up at gunpoint inside her Paris hotel room this evening, by two armed masked men dressed as police officers. She is badly shaken but physically unharmed."
Another source close to the family elaborated,
When the incident happened, [Kim] was half asleep and was woken up so abruptly. She was on little sleep to begin with since getting to Paris. She still hasn't fully been able to comprehend what happened.
Our thoughts and prayers are with the entire Kardashian-West family.
Citations: EXCLUSIVE Shes not doing so good Kim Kardashian's friend Jonathan Cheban gives update on star after armed 11m Paris diamond heist left her fearing for her life (DailyMail.com)