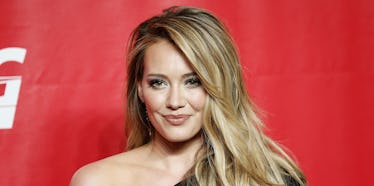 Hilary Duff And Her BF Are Being Dragged On Twitter Over Their Costumes
REUTERS
Here's a question that's been on Twitter's mind all day: Who let Hilary Duff and her new boyfriend wear offensive Halloween costumes?
The 29-year-old and Jason Walsh made their first appearance together this weekend at Cindy Crawford's Casamigos Halloween Party on Friday in Beverly Hills.
The "Why Not" singer was dressed as a sexy pilgrim and Walsh went as a Native American.
I'm sure after all the backlash they've gotten on Twitter, they probably wish they had put more time into their costume or at least were more creative.
See, these days, dressing up as a Native American and wearing a headdress is a total no-no.
Let's not forget about that time Chris Hemsworth also made the same mistake.
But at least he apologized for it.
Anyway, Twitter was less than subtle about their opinions of the new couple's costume choice.
Some were just at a loss for words.
And some were straight up confused.
Of course, the current issue of the Dakota Access Pipeline, which will affect Native American land, came up, too.
People on Twitter wished we could all go back to simpler times when Hilary Duff didn't wear offensive costumes.
OK, but dressing as a clown wouldn't be a good idea either, with all of the terrifying clown stuff happening these days.
We can always expect people on Twitter to be passionate about these issues.
But sometimes when celebs screw up like this, it's hard to see it coming.
Looks like Hilary and Jason's offensive Halloween costume cost them a bunch of fans.
It's pretty unfortunate this was the first time the two stepped out in public together as a couple.
Walsh was actually the "Younger" star's personal trainer when they met. Hilary confirmed it with this adorable Instagram of the two smooching last week.
I guess when it comes to their public appearances, it can only get better from here.
Citations: Hilary Duff & Boyfriend Jason Walsh Couple Up for Casamigos' Halloween Party! (Just Jared)