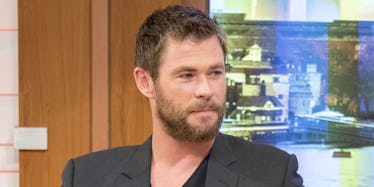 Chris Hemsworth Apologizes For Wearing Native American Costume... A Year Later
REX/Shutterstock
In the spirit of Halloween, Chris Hemsworth has issued an apology for a culturally insensitive costume he once wore.
On Thursday, the "Thor" actor posted a photo of himself in costume on set for "Thor: Ragnarok," alongside director Taika Waititi.
Waititi's father is Māori, who are the indigenous Polynesian people of New Zealand.
Hemsworth stood beside Waititi to announce his support for the Standing Rock protests in the US and also to apologize for once wearing the dress of First Nations people as a costume.
The 33-year-old actor wrote,
Standing with those who are fighting to protect their sacred land and water. I would also like to take this opportunity to raise something that has been bothering me for sometime. Last New Year's Eve I was at a 'Lone Ranger' themed party where some of us, myself included, wore the traditional dress of First Nations people. I was stupidly unaware of the offence this may have caused and the sensitivity around this issue. I sincerely and unreservedly apologise to all First Nations people for this thoughtless action. I now appreciate that there is a great need for a deeper understanding of the complex and extensive issues facing indigenous communities. I hope that in highlighting my own ignorance I can help in some small way.
The photo Hemsworth is referring to was originally posted on Instagram by his wife, Elsa Pataky, but was taken down after receiving criticism for cultural appropriation and red face.
Now, nearly a year later and with the help of Waititi, Hemsworth is apologizing to those critics and trying to raise awareness for the challenges native people are facing today.
Honestly, it's a good start.
On Thursday, over 100 people were arrested in North Dakota for protesting against the Dakota Access Pipeline.
The plans have the pipeline running within a half mile of a the Standing Rock Sioux reservation, and people are concerned about its affect on drinking water and encroachment on sacred burial land.
Hemsworth is not the first celebrity to stand with the protestors. Earlier this month, 24-year-old actress Shailene Woodley was arrested for protesting the pipeline as well.
Hemsworth is also hardly the first celebrity to wear the indigenous ethnicity as a costume.
Two years ago, Khloé Kardashian faced heat from the Redhawk Native American Arts Council for her appropriative headdress.
Hopefully this apology from Chris will inspire others to do the same — or at least steer clear of dressing up as a race in the future.
Citations: Chris Hemsworth Apologizes for Dressing Up as a Native American: 'I Was Stupidly Unaware of the Offense' (Entertainment Tonight)