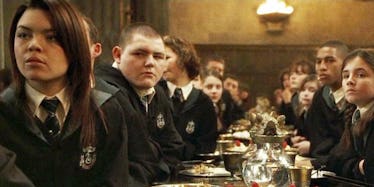 'Harry Potter' Star Shows Off Her Bare Butt In New Issue Of Playboy
Warner Brothers
Accio DAT A$$, GURLLLL!!!!!!!!!!!!
After a year of trying us to convince us that reading articles was somehow more exciting than looking at boobies, Playboy has finally decided to end their ban on nudity in their magazine.
So if you were worried your future kids wouldn't awkwardly find a box of your J-O material in 40 years, FEAR NO MORE!
The March/April edition of Playboy has a special treat for all of you "Harry Potter" fans out there.
You see, we have officially gotten to a point in time where it's not weird to be pumped about "Harry Potter" characters showing off some skin, and Playboy has taken advantage of this fact.
HellllooooOOOOOooooOOOOOOOooooooOOOoooooo, Pansy Parkinson.
That's Scarlett Byrne and her butt. She played Malfoy's GF and Slytherin staple Pansy Parkinson in the "Harry Potter" film series.
Uhhhh, looks like the tables have turned here, Pansy. I'm pretty sure we all know your business exclusively now.
She captioned the post with an announcement that she wrote a feminist piece for the upcoming issue, saying,
I'm very proud to be a part of the March/April issue of Playboy. I penned a short essay along with my pictorial titled, "The Feminist Mystique". A big thank you to @Playboy, the creative team, and @cooperbhefner for such a unique opportunity. #NakedIsNormal
This is far from the first time that someone from the Potter-verse has shown some skin to the public.
Emma Watson reportedly went topless for a scene in the 2016 psychological thriller, "Regression," from Alejandro Amenábar.
Harry Potter himself, Daniel Radcliffe, made headlines back in 2008 when he starred in "Equus." During the show's run, he famously bared his Nimbus 2000 to full houses on Broadway until the production's run ended.
Then there was the time Neville showed us just how long his bottom actually is.
Mischief Managed.
Citations: This "Harry Potter" Star Is Now Posing In Playboy (Cosmopolitan)