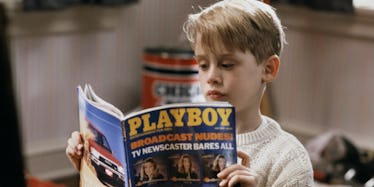 Playboy Will Feature Nude Pictures Again, Admits Removing Them 'Was A Mistake'
Twitter
Let's face it... If you're purchasing a Playboy magazine, there's a good chance you're expecting to see some skin.
That's likely because Hugh Hefner's lifestyle magazine for men is known for showcasing some of the most beautiful models the world has to offer. Oh, and did I mention they've all posed naked for years?
Well, that was up until 2015, at least.
Back in October of 2015, Playboy CEO Scott Flanders told the New York Times,
You are now one click away from every sex act imaginable for free. And so it's just passe at this juncture.
It was at that moment Playboy announced they'd be ridding their publication of nude photos (but not for long).
What if I told you a couple of years into the future Playboy is looking to reintroduce nude photos to their readers? Because they are. You can stop reading the PG-rated version now!
According to Us Weekly, the higher-ups at Playboy believe removing nudity from their magazine back in 2015 was a massive "mistake." Hugh Hefner's son Cooper "didn't agree" with the new "vision for the company" in 2015.
On February 13, Cooper Hefner, the Chief Creative Officer of the company, authored a statement on Playboy's website, saying,
I'll be the first to admit that the way in which the magazine portrayed nudity was dated, but removing it entirely was a mistake. Nudity was never the problem because nudity isn't a problem. Today we're taking our identity back and reclaiming who we are.
In other words, when you open a Playboy magazine, you can now expect more freeing of the nipple than ever -- starting with their March-April 2017 "Naked is Normal" issue featuring model Elizabeth Elam.
Cooper went on to say,
This is a remarkably special moment personally and professionally that I get to share this issue of Playboy magazine with my dad, as well as with readers. It is a reflection of how the brand can best connect with my generation and generations to come.
I wholeheartedly agree, Mr. Hefner. How the hell are we supposed to "connect" with Playboy if it doesn't partake in the powerful #FreeTheNipple movement?!
We're glad to have to you back, adult magazine my parents told me would kill me.
Citations: Playboy Is Bringing Back Nudity: Removing It 'Was a Mistake' (Us Weekly)