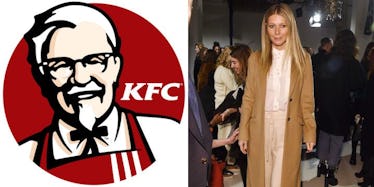 Gwyneth Paltrow Admits She Knows What Fast Food Is And Here Is How She Eats It
KFC REX/Shutterstock
Gwyneth Paltrow has finally revealed what she REALLY thinks about fast food.
Gwyneth Paltrow lives such a bizarrely extravagant life that it's hard to get angry at her. While other celebrities do maddening things like purchase million dollar cars or rent out whole islands for their cats, Gwyneth chooses to be way more subtle and authentic about how much disposable income she has.
How can you get angry at someone for suggesting you drink a tall glass of moon dust every morning whilst shoving therapeutic rocks up your baby maker?
Today, she released the most relatable list she's ever made: a breakdown of how to eat fast food. The fact Gwyneth knows what fast food is surprising as it is, the fact she made a rich healthy people's guide to fast food is glorious.
(She broke the foods down into three categories based on how easy it is to be healthy while ordering and what you should get while you're there. I renamed those categories after Gwyneth's movies.)
"Shakespeare In Love" (The best option)
Starbucks: Your best option here is the Egg White and Roasted Red Pepper Sous Vide Egg Bites or the Hearty Veggie and Brown Rice Salad Bowl. They also have real great snack options.
Chipotle: Get the salad bowl with brown rice if you're feeling particularly hungry. DON'T GET IT WITH ANY DAIRY.
Panda Express: Order the plain brown rice with steamed veggies, and grilled mandarin chicken. If you're feeling WILD you can spruce it up with chili packets and soy sauce
Wendy's: Your safest bet here is half of the Power Mediterranean Chicken Salad minus the hummus sauce that comes with it. Swap in the balsamic vinaigrette packet for flavor.
Subway: Just turn any sandwich into a salad. Boom. Easy.
"Iron Man 3" (Fine, these places are fine. Not great but fine.)
McDonald's: If you somehow find yourself inside of a McDonald's sober, you should get the Lettuce-Wrapped Grilled Chicken Burger. Top that bad boy with some the Pico Guacamole dressing, hold the cheese and you're good to go.
Taco Bell: Gwyneth suggests sticking with the Black Bean Burrito or Power Veggie Bowl, just make sure to skip the dairy (I think you can see the trend here). Fun fact! All meat can be substituted with beans and the beans are all vegan.
Domino's: Get the Vegan pizza with no or light cheese.... or like just don't order from Domino's if this is a concern to you?
"Mortdecai" (The worst possible decision you can make)
Arby's: If you find yourself in an Arby's for some reason, stick with the Farmhouse Salad but sub in roasted turkey instead of crispy chicken. Get the balsamic vinaigrette to top this bad boy off.
Dunkin' Donuts: Listen up, Boston! When in a DD you can go with the oatmeal and an Egg White Cheddar Patty Omelet served on toasted multigrain flatbread.
KFC: There is room to snack on sides here like the mashed potatoes without the gravy, the cole slaw, the sweet corn or green beans.
Dairy Queen: The 50-calorie fudge bar is your only option.
The fun part about this last category is that sine the options all suck there Gwyneth says your best bet is to just splurge a little. Get that guilt-free order of fries or Blizzard you've been eyeing.
Enjoy eating like Gwyneth!
Citations: The goop Fast Food Guide (Goop)