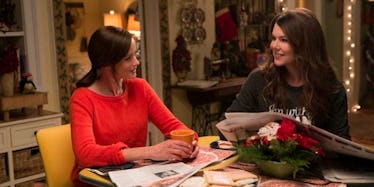 'Gilmore Girls' Cast Wishes Alexis Bledel Happy Birthday And It's All The Feels
Netflix
Alexis Bledel turned 36 today, and if you're not binge watching all of Gilmore Girls in celebration, you might want to rethink your life priorities. I'm sure that the actress has been inundated with a whole slew of birthday messages, but the ones we need to focus on today come directly from Stars Hollow. Namely, the Gilmore Girls cast wished Alexis Bledel a happy birthday and we're all going to probably sob happily into our Luke's coffee cups for the rest of the day.
Last year graced us with so much Stars Hollow goodness, it all felt a little unreal. Not only did Netflix stream a reboot of Gilmore Girls, complete with four different movie-length episodes, but we got to see the cast reunite over and over again on talk shows, in magazine articles, and on one another's social media pages. And if it felt surreal watching your childhood magically appear again -- plus, you know, go through the long, emotional journey of reprocessing your feelings for Jess (Logan fans, I have little to say to you) -- then just imagine how the cast felt.
Graham told TVLine that the whole experience was incredibly emotional, saying,
When I walked onto the set for the first time. We had to do a camera test and… the house. [She gets choked up] It's on a different stage but it's… the house. Alexis [Bledel] and I walked onto the set together and — I feel super emotional about a lot of it and I'm afraid I'm going to start crying at every turn — but walking onto that set really felt like something. It felt like a lot of time had passed and it felt like we were just there. It felt amazing.
Plus, there was a whole lot more love to go around during the reunion, because everyone really appreciated the experience after having been away for so long. Graham explained to Collider,
I would sit in Town Hall and watch Michael Winters, who plays Taylor Doose, and be like, 'He's so good!' Before, I was like, 'I'm tired! Somebody get me a coffee!' Now, I was like, 'Look at this beautiful room with these beautiful people!' It was so dorky, but I'd rather feel it that way.
Now, if that's not enough to make you believe that the Stars Hollow crew is one big, happy family – just LOOK at the Instagram posts Bledel got on her birthday.
Here's one from Kelly Bishop:
Oh my God. Baby Rory. Emily wearing a classic Season One ensemble. Cannot handle this.
And here's one from Lauren Graham. Nope, really, really can't handle this.
This is actually the second sweet message that Graham has sent out to her TV daughter over social media in the past week. After Bledel nabbed her (first!) Emmy for her role in A Handmaid's Tale, Graham took to Twitter to send congratulations.
I feel like maybe we can just take this lovefest as a sign that Gilmore Girls might, might come back for one last round. I mean, for the most part the cast definitely haven't seemed opposed to the idea. Bledel gave a maybe to Vanity Fair when asked about more episodes, saying,
I think for me it comes down to what story we're telling. I'm just interested in telling a story that is dynamic and that I sort of relate to and can hook into. And if that happens... I don't know. It's such an unknown, I don't think we anticipated that this would happen.
OK, a little wishy-washy but at least it's not a hard no. In the meantime, it wouldn't hurt to rewatch every season of the show – you know, just for preparation sake.