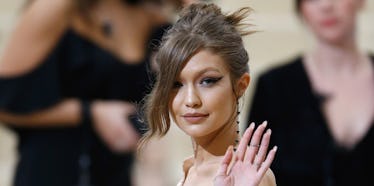 Gigi Hadid Looks Amazing In A Rainstorm, Officially Becomes Least Relatable Celeb
John Lamparski/Getty Images
People are losing their minds over photos of Gigi Hadid wearing satin pants during an NYC downpour. Although the rain was fierce, Gigi's outfit remained fiercer. Seemingly unimpressed with the rain, she remained completely dry.
What's being practical when you're Gigi Hadid?
As you can see in the photo above, she has someone holding her umbrella. Most of us do not have that luxury.
However, to truly protect those expensive pants, wouldn't you need a whole team of umbrella holders? One umbrella boy on each side and maybe someone just carrying her?
This is what I would demand if I were a famous model.
While I love her, I find Gigi totally unrelatable right now. When I get stuck in the rain, it's raccoon eyes and drenched Toms that I have to blow dry when I get home. Womp, womp.
The video above gives a better 360 degree look at the entirety of the outfit, and there's not a drop of water on her.
Is it voodoo magic or sheer fabulosity that carries her through? So many questions, so little rainstorms.
Gigi is known for rocking amazing looks. Nothing, not even the weather, can stop her reign as fashion queen.
Other celebrities who look just as fab in the rain #cantstopwontstop
Jennifer Aniston can do no wrong and is also impervious to rain. She's not even covered by the umbrella. Just casually walking with a fedora. Where's the hair frizz or sunglass smears?
Justin Theroux should offer up the umbrella, but it doesn't seem like Jen needs it, TBH.
Emma Stone and ex-boyfriend Andrew Garfield look casual and stylish walking in the rain. She even has her coat open like she's not getting pelted with cold water. Slay!
OK, Ellen Pompeo may have gotten wet for an episode of Grey's Anatomy, but she still looks adorable. I didn't look anything like this after my ice bucket challenge.
If I didn't adore Kate Middleton so much, I would hate her.
No human should be allowed to be this perfect. She walked outside in the rain and still not a hair out of place, plus her style is impeccable.
She. is. everything.
Next time you think celebs are just like us, remember that rain doesn't affect them.