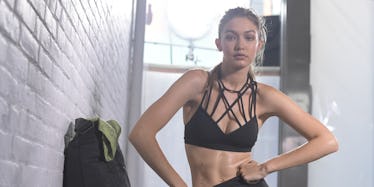 Gigi Hadid's New Reebok Photos Prove Strength Is Her Sexiest Asset
Cathrine Wessel
It's not enough to be a supermodel with a thin, tall body and the skin of a baby angel.
These days, models are social media-posting, workout-busting mavens. The pressure to be everything at once builds up, which is why fashion isn't a job for the faint-hearted (or those who need eight hours of sleep).
It girl Gigi Hadid is tackling that very issue in her new gig as the face of athletics brand Reebok.
Yes, the same brand that makes your dad's favorite lawn-mowing sneakers is now catering to the young and sweaty.
Taking up Ronda Rousey's mantle, Hadid helms the second phase of Reebok's #PerfectNever campaign. In the photos, she sweats and boxes with the focus of a young (admittedly feminine) Rocky Balboa.
Hadid's message is simple: Don't just work out for your bod. Do it for your stress, self-confidence and social circle. It's a life change, one that can be even cheaper than therapy.
In a press release, Hadid said,
Working out isn't only physical for me. It's mental. It helps me escape the noise in my head. It's the only time my mind goes quiet.
Frustrating project at work? PMS you can't shake? Hit the gym, and then a hit a punching bag. It'll do wonders for your mental health, all while burning calories.
Hadid should know, after all. Before she was a member of the Insta-model elite, she competed in both horseback riding and volleyball. The woman doesn't have a non-competitive bone in her beautiful, muscular body.
But according to Hadid, you can find peace by focusing on improvement instead of perfection.
She further explained the #PerfectNever movement in an Instagram caption, saying,
'Perfect' never exceeds expectation. It doesn't allow us to reach our full potential. May we be confident and have love for who we are, but, in all that we are passionate about, may we always remember that Good is the enemy of GREAT.
Preach, you dewy unicorn.
In any case, landing Hadid is Reebok's smartest move in years. Athletic brand Puma already locked down Rihanna, Cara Delevingne and Kylie Jenner, while Adidas has Karlie Kloss.
Enlisting an influencer is practically mandatory.
Besides, who better to make you forget your father's grass-stained sneakers than Hadid, who practically oozes sex appeal? Hadid is the right face to bring Reebok into an era of female empowerment.
Now, how exactly do I get her abs?