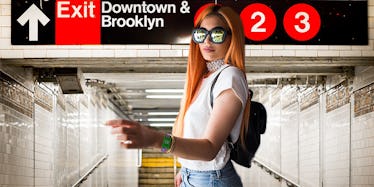 Kylie Jenner Just Proved She Has No Idea What The NYC Subway Is Like
REX/Shutterstock
Kylie Jenner, an affluent teenager from the wealthy suburbs of Los Angeles, would like you to know she has a very good idea of city life, thank you very much.
In a just-released campaign for PUMA (her second), the younger Jenner takes on the big city. Well, kind of.
Posed on graffitied subway cars and in front of grungy brick walls, Kylie rules New York in sports bras and track pants. She even holds chained pit bulls while casually leaning against a payphone.
This is when you know she's really never visited the Big Apple -- if she had, she'd never be physically touching a payphone.
My favorite images depict the social media star flexing on a subway bench and holding a boombox. Clearly, Kylie has never ridden actual public transportation. If she had, she'd know that you never expose skin or show weakness. Unless she's preparing for an in-car dance routine -- a real thing that happens daily -- Kylie's not prepared for her commute.
Furthermore, what is this blast-from-the-past version of New York she's standing in? MTV jokingly calls the photos "a throwback to before she was born," glamorizing the days of crime and destruction in the city during the 1980s.
It's cute that she wants to play city girl and all, but surely a photoshoot in her perfectly-manicured backyard would have been a bit more realistic?
For the record, I'm down with the concept of fantasy in fashion shoots. But let's not pretend Kylie regularly hops the city bus downtown. She's not playing in a fantastical setting or dressed like a space unicorn from the year 2650 -- she's taking a dip into the lifestyle of people who aren't rich and probably splurge on that $116 unlimited subway MetroCard every month. And that's far from cool or innovative.
I love the Kardashians, but I'd so much rather see them in the nouveau riche playground of Calabasas than pretending to understand anything about being working class.
In case you needed a reminder of an incredibly awkward moment, Kylie's sisters Kim and Kourtney once rode the New York City subway for an episode of their spin-off "Kourtney And Kim Take New York." Never forget that this moment happened:
I rest my case.
Citations: Kylie Jenner Is Bringing Back the Pay Phone (Elle)