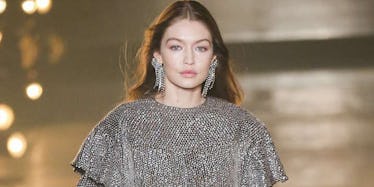 Gigi Hadid Does Morning Stretches And Shows Off Major Underboob In New Instagram
REX/Shutterstock
GoooooOOOOOoooOOoOOooooooooood morning, Gigi Hadid!
A few hours ago, Gigi Hadid released a picture on the internet as powerful as 40,000 gallons of coffee or matcha (if you're one of THOSE people).
Think "lightning-bolt-to-the-skull" level wake-up call. This picture should become a staple in your morning routine.
Anytime Gigi Hadid wants to post pictures of her doing some A.M. stretches I am totally fine with that.
The photo taken shows Gigi playing with her hair, looking off to the side and not realizing her shirt is riding up north.
She captioned the post,
morning stretch happy Tuesday @dailyfrontrow @mertalas@erinparsonsmakeup @brycescarlett
Also showcased in this picture is the world's most tattered pair of jeans. It looks like she was in a claw-fight with the world's shortest bear 10 minutes before she had to show up to the studio to take pictures.
The picture was posted just a few days after Hadid was spotted in New York rocking a vintage Power Rangers t-shirt.
The lucky man who gets to watch Hadid do her tattered-jean early morning stretches is former One Directioner and current B-level solo artist Zayn Malik.
With the exception of a brief split last year, the two have been linked to each other since late 2015.
The couple recently celebrated a bit of a milestone in their relationship. As Zayn explained to The Sunday Times,
I've never took her to [my hometown] Bradford, not yet. She's met my family in London a few times, though.
Awwwwwwwww! THEY DOING CUTE COUPLE SHIT!!!!!!!
He later went on to say,
I call her Gee, she calls me Zee. There's some other nicknames too, but I'll keep those private.
Gigi recently got a chance to interview Zayn as part of a campaign for Versace.
It's not the most exciting interview, and it ends in the weirdest way possible, but hey!
We're all for cute couple stuff here!