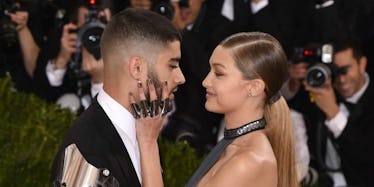 Zayn Malik And Gigi Hadid Finally Took A Huge Step In Their Relationship
REX/Shutterstock
Singer Zayn Malik recently sat down with The Sunday Times for an in-depth interview about his life.
In speaking with The Times, the 24-year-old revealed how he overcame his battles with anxiety and an eating disorder, as well as how his girlfriend, Gigi Hadid, has played an integral role in helping him get to where he is today.
Speaking on how his anxiety played a key role in his decision to leave One Direction in 2015, Zayn Malik said,
I now have no problem with anxiety. It was something I was dealing with in the band. People saw strength in that, and they didn't seem to expect it from a guy, but they expect it from a female, which to me is crazy. We're all human. People are often afraid to admit difficulties, but I don't believe that there should be a struggle with anything that's the truth.
According to the 24-year-old, his life as a member of the insanely popular One Direction was "so regimented and controlled."
Malik talked about how coming home to England brought him back to reality in a sense. He said,
It was the one area where I could say, 'No, I'm not eating that.' Once I got over the control, the eating just came back into place, super naturally... I came back to the UK and spent some time with my mum and got some TLC, and she cooked me food and I got back in touch, mentally, with a lot of the things I'd lost.
Eventually, Zayn got around to talking about his girlfriend, model Gigi Hadid.
The Brit revealed he's been living with the 21-year-old Hadid "this past year," and she's even hung out with his family.
WOW!!! WHEN WERE YOU GOING TO TELL US THIS NEWS, GUYS???
Speaking on their relationship, Malik said,
I've never took her to [my hometown] Bradford, not yet. She's met my family in London a few times, though.
So cute!
The 24-year-old also opened up about how he and Gigi Hadid keep things fresh in the romance department. He said,
I call her Gee, she calls me Zee. There's some other nicknames too, but I'll keep those private.
Ayo!
Speaking on their time together in France for Paris Fashion Week in March, Malik said,
It's been amazing spending time here with my girlfriend.
Get you someone in your life who looks at you like Zayn Malik clearly views Gigi Hadid.
Citations: ZAYN MALIK: 'LOVE HURTS ... LOVE IS HARD' (The Sunday Times), Zayn Malik Talks Overcoming an Eating Disorder and Anxiety: Plus, Intimate Details About His Relationship With Gigi Hadid (E! News)