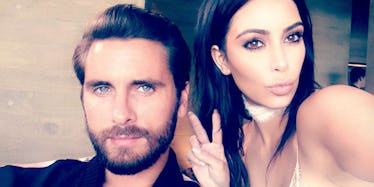 Forget Kim Kardashian: Dubai Is Pumped Scott Disick Is In Town
Instagram
Sorry, Kim Kardashian who??? Never heard of her.
Kanye West's wife? Mother of his children? Star of "Keeping Up With the Kardashians?"
It's not ringing any bells.
OH! You mean Scott Disick's wife's sister!
Yeah, I'm familiar with Kim Kardashian, and I assume so is Dubai, but it's clear who the bigger celebrity is there.
Just look at this welcome.
THEY GOT A SCUBA DIVER TO WELCOME HIM IN AN AQUARIUM.
Kim Kardashian's trip to Dubai is one of her first public appearances since her terrifying Paris robbery, where she was held at gunpoint and had $6-$11 million dollars worth of jewelry stolen.
The star just returned to social media for the first time since that October incident on January 3.
While in Dubai, Kim will attend The Masterclass, a makeup-oriented event hosted by Mario Dedivanovic, her makeup artist and friend.
Disick joined Kardashian on the trip, and the two enjoyed a very low-key dinner when they arrived at the luxurious city.
Yes, they're reality TV stars and have millions of dollars to their name. And sure, they make fashion trends happen and posts go viral.
But when you get down to it, Scott and Kim are just like you and me.
JK.
I don't know about you, but I've never had to use my iPhone to talk to a person I was having dinner with because there was so much food and distance between us.
Just... emotional distance...
Why do you shut me out?
Scott wrote on his Instagram,
Thank god for the family plan phone package or we couldn't talk over dinner.
What makes this table setting for 12 over the top may just be the chunky sunglasses Kim is wearing.
Thankfully, since Kourtney and Disick reunited this year, we can expect his more down-to-earth approach on new episodes of "Keeping Up with the Kardashians."
Citations: 'Welcome Scott': Disick gets royal treatment with Kim Kardashian (DailyMail.com)