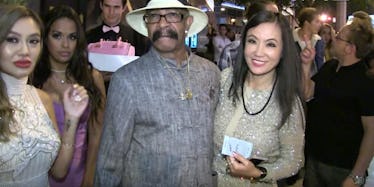 Drake's Dad Just Casually Dropped Drake And Rihanna Are 'Just Friends'
YouTube
"They're friends."
Damn, Dennis, you have no chill at all when it comes to dishing on Drake and Rihanna.
Despite the hearty evidence that supports the theory that Drake and bad girl RiRi are an item -- the matching shark tattoos, Rihanna professing her love on Instagram, the heart-shaped fur coat -- Drake's dad, Dennis Graham, insisted that the two were just friends.
Just FRIENDS, Dennis?
We are talking about THIS Drake...
Your son, Drake, who has admitted to being in love with Rihana for years?
Not this Drake.
THIS DRAKE.
Hmmm, OK Dennis.
I will give you the benefit of the doubt here. My parents used to introduce all my significant others as my "little friend" as well. Maybe this is just a classic dad move.
But Dennis buckled down, even going as far as saying:
There's no relationship.
I don't know about you, but I wouldn't get a matching shark tattoo with someone I was just friends with. (Because I can't commit and also sharks are too scary.)
But tell me Dennis, how can you deny all the smooching that's been going on? I have had friends for years as well and they never let me smooch them!
Drake and Rihanna are in love. I rest my case.
Citations: Drake's Dad Says Drake And Rihanna Are Just Friends (Buzzfeed)