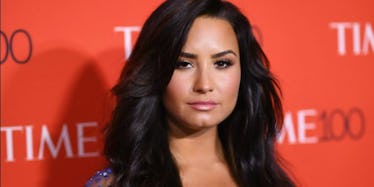 Demi Lovato On Her Bipolar Disorder: "It's Something That I Have, It's Not Who I Am"
Getty
Demi Lovato has always been very open about her past struggles. Now, she wants to help educate others on mental health. Demi Lovato's Bipolar Disorder came to light in 2011 when she was diagnosed. Since then, she has worked extremely hard to get to a happy and healthy place in her life.
The 24-year-old got candid about her Bipolar Disorder during an interview with iHeartRadio's Label Defiers with ZICO Coconut Water podcast on July 31. She said,
I think when people refer to me as being bipolar, it's something that is true — I am bipolar — but I don't like people to use it as a label. It's something I have, it's not who I am ... I think Demi Lovato, activist, is something that I would really be proud of.
The "Sorry Not Sorry" singer has been making big strides for mental health awareness. She didn't try to hide her Bipolar diagnosis. Instead, she brought it to light and helped a lot of people along the way. She explained in her interview,
I think it's important to speak up about the things that you believe in because your voice will be heard no matter what position you're in. And I just happen to be in a position where more people will hear my voice than they would have 10, 15 years ago. I use my voice to do more than just sing and I use it to speak up about mental health because that's something I'm very passionate about ... I'd say the whole world knows the real me because there's nothing that I hide.
Is it possible I love her even more now? Lovato has definitely made an impact among fans.
In 2016, an 11-year-old fan's mother wrote an open letter to Lovato. It detailed how Lovato helped her daughter cope with her own Bipolar diagnosis. The opening paragraph says,
I just wanted to say thank you on behalf of my 11-year-old daughter who has Bipolar Disorder. You see, because you are so willing to talk openly about having Bipolar Disorder, you have helped reduce the stigma surrounding this mental illness.
I'm not crying, you are. Lovato's message has been consistent: Staying silent about mental illness helps no one.
As for Lovato, her key is to take it one day at a time. Back in 2016, she talked about taking things slow.
Every day is a work in progress, so hopefully I make it to 2017 with my sobriety. I take it one day at a time and for today I'm doing great.
Hopefully, Lovato will inspire more people to open up about mental illness. Until then, keep fighting the good fight, Demi.