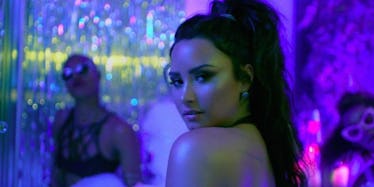 Demi Lovato Wasn't Nominated For A VMA, And There's A Simple Reason Why
VEVO
Demi Lovato is out here looking like revenge, feeling like a 10, the best she's ever been -- or at least that's how she says it in the opening lines of her absolutely IDGAF comeback single, "Sorry Not Sorry." For the video, she throws a "house party" à la Project X where her friends all dare each other to make out and she dances around in thigh-high purple boots screaming about being carefree, cool, and not sorry about it. In other words, it's the perfect summer pop chart-topper, so why again wasn't Demi Lovato nominated for a VMA?
The answer to this one is simple. Like Jay-Z and Selena Gomez, whose summer revelations 4:44 and "Fetish" also aren't nominated, Lovato missed the cutoff date. "Sorry Not Sorry" was released on July 11, a little over two weeks past the last day of eligibility for the 2017 VMAs, which recognize music released between June 25, 2016 and June 23, 2017.
Next year's Best Pop category, where "Sorry Not Sorry" would be most likely to earn a nomination, is already looking stacked as many artists like Lovato prioritize sweet spot summer release dates over assurances of VMA eligibility. Gomez, for example, will surely be in the running for either "Bad Liar," "Fetish" or both, and Kesha will put up a fight with her raw comeback track "Praying."
This will be the first VMAs since 2011 where Lovato won't take home any hardware. In the past, she's won Best Video with Social Message for her uplifting "Skyscraper" and Best Song of the Summer for "Cool for the Summer." Despite an impressive five career VMA wins, Lovato has yet to take home the night's biggest prize, Video of the Year. "Sorry Not Sorry" may put her in the running, but with Taylor Swift due to end her three-year pop hiatus any day now, and Gomez's album looming huge the horizon, it's going to be tough.
No need to feel bad for Lovato, though. These days, she seems to care about proving herself about as much as her character in the "Sorry Not Sorry" video cares about having a clean house and drinking responsibly. It's easy to forget that Lovato, only 24, is a veteran of the music industry; she released her first album at 16 and began starring in her own Disney Channel show soon after. The world has watched her overcome an eating disorder, substance addiction, and bipolar disorder diagnosis since then, so it's hard not to be happy when you see today's carefree Lovato, so happy on "Sorry Not Sorry" that she's making everyone else feel bad, riding the IDGAF rainbow, even if there is no VMA at the end.