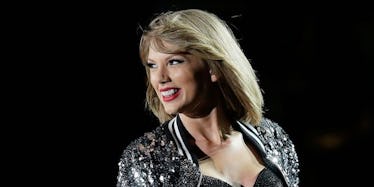 Fans Think Taylor Swift Is Performing At The VMAs After This Rumor
Mark Metcalfe/Getty Images
The VMAs are coming up on Sunday, August 27, and fans have been wondering if they'll be seeing Taylor Swift at the VMAs, either performing or just in attendance. There have been rumors floating around that Swift and Katy Perry will reunite and end their feud by performing together at the VMAs (which Perry is hosting), but nothing has been confirmed. Now, BBC UK has reported that Swift and Perry are planning to perform together at the VMAs, but again, nothing has been confirmed. Elite Daily reached out to Swift and Perry's teams for comment, but did not hear back by time of publication.
This is likely just another rumor; I'd be really surprised if Swift did show up for a surprise performance at the VMAs. She hasn't released any new music lately, and her rumored new album (if it's happening) isn't even supposed to come out until around Christmas 2017, so it doesn't seem likely that she'll appear to perform any new music. And Swift carefully crafts her public image (like all celebrities do). Given that and the fact that she just won her sexual assault trial, she probably wants to keep focus on that for a while. And who can blame her? She took a powerful stance in the trial, and it didn't go unnoticed by any of her fans.
But other fans don't believe this rumor for a second. Many think Swift won't be at the VMAs at all, let alone be doing a surprise performance with Katy Perry.
I'm sorry, T-Swift fans, but it just doesn't seem likely that this surprise performance is going to happen, as none of these rumors have been addressed by Swift or Perry's teams or the stars themselves.
If Swift and Perry do decide to bury the hatchet at the VMAs, however, I think that would be cool. It's been five years of bad blood, that seems like enough. But that's just me.