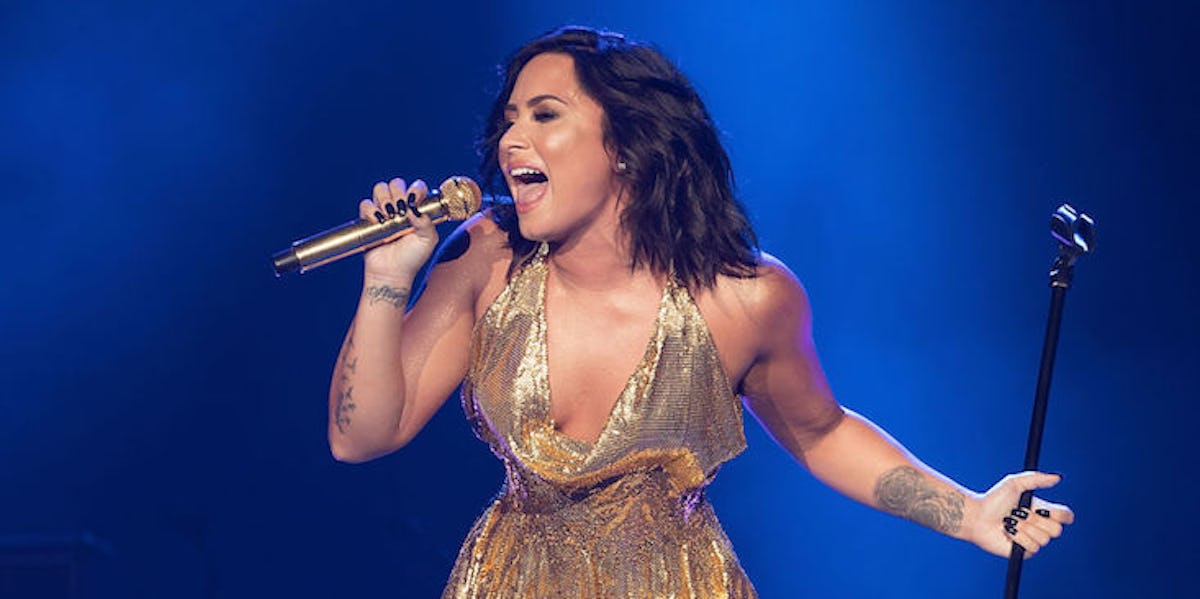 Demi Lovato Drops New Song "Sorry Not Sorry" And Fans Are Already Obsessed
Rick Kern/Getty Images for BeautyKind: Concert for Causes
Demi Lovato, you sweet, sweet, warrior princess.
Lovato gave us the song of the summer with "Cool For The Summer" in 2015, and you can call me Taylor Swift if she didn't do it again.
Dropping her new hit, "Sorry Not Sorry," Lovato is bringing us something totally different from her usual tune.
Here, have a listen.
DAMN RIGHT YOU SHOULDN'T BE SORRY, DEMI. You can listen to the full track on iTunes or Spotify.
Lovato is known for being outspoken and never one to play it safe. In fact, she teased her latest triumph the same day Selena Gomez gave us more "Fetish" details. Our guess? She isn't sorry, Selena fans. She's busy doing her own. damn. thang. and doesn't have time to consider what else is going on in her industry.
In an interview with Entertainment Tonight, Lovato said,
I actually want to go a totally different way with my album. I want to go more soulful, so we'll see what that ends up turning out like. I'm still in the process of writing and finding the inspiration behind it so we'll see.
More soulful? It's hard to imagine what that would sound like, given some of Lovato's previous soul bearing songs like "Stone Cold" and even her motivational anthem, "Confident."
Always focusing on staying true to herself, Lovato's MO is bringing us club bumping dance hits with a heavy side of motivation and empowerment.
In her latest triumph, Lovato sings the lyrics,
Now payback is a bad bitch And baby, I'm the baddest You fuckin' with a savage Can't have this, can't have this  And it'd be nice of me to take it easy on ya, but nah
WOO GIRLLLLL. Fans are eating it up.
#Relatable. YES.
"Sorry Not Sorry" is the perfect summer jam, and is great for a night with the girls, driving with the windows down or any time you are simply feeling yourself and shrugging of the haters.
We love you Demi. Sorry we're not sorry.