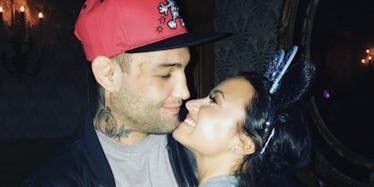 Demi Lovato Sparks Engagement Rumors, Wears Ring On That Finger
Instagram
Is Demi Lovato's new man about to be more than just a boyfriend?
It sure looks like it, judging from that new piece of bling she's rocking on her ring finger!
Demi has all her fans buzzing that she may be engaged to her boyfriend, MMA fighter Guilherme "Bomba" Vasconcelos, after she posted a selfie showing off a diamond ring on her ring finger.
The photo came shortly after she and Bomba celebrated his birthday with a trip to Disneyland on Thursday... which would have been a perfect place for a proposal, I'm just sayin'.
Check out Demi's bling below.
Hmmm, a diamond ring on the ring finger of her left hand? It's hard to interpret this photo any other way...
Then again, it wouldn't necessarily be like Demi to rush things so quickly — she dated Wilmer Valderrama for six years and they never inched toward an engagement.
And she's only been seeing Bomba since the beginning of 2017, not even three months.
Though they've only been seeing each other for a short time, Demi and Bomba do seem to be super into one another, packing on the PDA in tons of photos on their social media accounts.
I mean, come on. Does this not look like a right-after-the-proposal, full-of-love photo?
But if the cute couple actually are engaged, it doesn't sound like they're ready for everybody to know yet.
Earlier this week, Demi told Entertainment Tonight she's just having fun right now in terms of her romantic life, which makes it sound like a big commitment like marriage isn't really on her mind at the moment.
She explained,
I'm just having fun, you know? And my life is in a really good place right now. [Bomba] makes me laugh.
Interesting... so is Demi engaged or not?
Either way, it's clear Demi and Bomba are really in love, which makes me really happy for Demi after a kind of romantically challenging year for her.
She broke up with her long-time boyfriend Wilmer Valderrama last summer, and then briefly dated a different MMA fighter, Luke Rockhold, before finding Bomba at the start of 2017.
So I don't know if we're going to be seeing Demi walking down the aisle soon or not, but I'm happy she's happy!
Citations: Demi Lovato Kisses Boyfriend Guilherme 'Bomba' Vasconcelos, Rocks a Diamond Ring on That Finger (Entertainment Tonight)