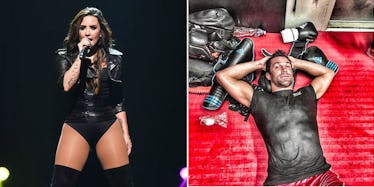 Demi Lovato Has Moved On From Wilmer Valderrama To A Hot UFC Fighter
Rex/Shutterstock/Instagram/Luke Rockhold
Sorry Wilmer Valderrama, but it looks like Demi Lovato has moved on to someone else.
According to Us Weekly, the "Confident" singer is "hooking up" with UFC fighter Luke Rockhold.
OK DEMI, I SEE YOU.
And hello, sunshine. You come here often?
Luke is pretty hot and he's already flirting it up on social media. Yup, the lovebirds have been showing some ~secret~ PDA online.
A month ago, Luke added an Instagram of his pinky with a smiley face tattoo. INTERESTING. VERY INTERESTING.
A couple of days later, Demi shared a video of her finger WITH THE SAME SMILEY FACE TATTOO.
Are you picking up what I'm putting down?
On top of that, an insider told Us Weekly,
She's just trying to have fun right now. They've been talking, hanging out and hooking up, and they like each other.
Oooh, SPICY.
This summer fling comes just a few months after the star split from Wilmer Valderrama in June.
Demi and Wilmer called it quits after six whole years together. SIX WHOLE YEARS! That's basically a third of my life.
Things just got more complicated, though, because it looks like Wilmer is now dating his ex-girlfriend Minka Kelly. Shit.
I guess it's fair to say Demi and Wilmer both have moved forward and aren't looking back.
EXES, AM I RIGHT?
Citations: Demi Lovato Dating UFC Fighter (Us Weekly)