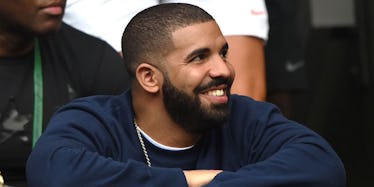 People Are Sharing Videos Of Dads Who Love Drake And They Are Glorious
REX/Shutterstock
Drake's life has been pretty great recently.
He's got Rihanna back, he's crushing a world tour with Future, he's probably collaborating with Kanye and he's nominated for Video of the Year.
But you know what's even more impressive than all that super impressive stuff?
He officially has a tight lid on that sweet, sweet dad audience.
That's right, you may think you're a big fan of the 29-year-old rapper, but you know who's probably a bigger fan than you are? Your dad.
Or, if not your dad, then definitely all these people's dads.
Thanks to the beautiful website that is Twitter, people have been sharing videos of dads who just really love listening to Drake.
This dad really loves Drake, and he is not afraid to express that love.
This was one of the multiple 50+ year old dudes who was singing every word wit Drake. Pops was lit the whole night pic.twitter.com/PSlhuHKHwW — DJ Akademiks (@IamAkademiks) August 22, 2016
This dad is more low-key about his love for Drake, but it's still so pure.
This dad didn't manage to get concert tickets, but that didn't stop him from loving Drake.
This dad who loves Drake has a surprising amount of swag.
I seriously cannot stop watching this video of my dad dancing to One Dance by Drake pic.twitter.com/TVT1AVcOYk — Keandra Lee (@keandra_lee) June 4, 2016
If loving Drake is what this dad's daughter wants, then loving Drake is what this dad will do.
This dad is almost as good at spitting Drake lyrics as Drake is.
The evidence is overwhelming: Dads love Drake, too.