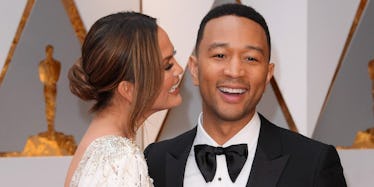 Chrissy Teigen Trolls John Legend For Dressing Just Like Arthur In Easter Pics
REX/Shutterstock
Chrissy Teigen isn't about to let John Legend catch a break just because he's the most loving, supportive, beautiful husband of all time.
The couple took daughter Luna to snap a few photos with the Easter Bunny earlier this week, and John's outfit looked more like PBS cosplay than his Sunday best.
Chrissy didn't let him live it down after an unaffiliated Arthur Read account tweeted "Love your Easter look" at John.
Chrissy immediately dubbed the accountholder "shady as f!!" and promised to throw them a follow.
Unfortunately, as of 19 hours ago, the Sports Illustrated model still hasn't followed the account.
"Arthur" decided to call Chrissy out for her empty promise, as if suddenly a celebrity retweet isn't worth a damn thing.
Plus, this John-is-Arthur narrative isn't new to Chrissy. Sorry, try harder.
Back in FREAKING FEBRUARY, when the Arthur comparisons began online, Chrissy used the Arthur meme to illustrate her husband's reaction to basically being sexy human Arthur.
This bit is heading into its second month; follows are no longer guaranteed. Besides, Chrissy and John have too much going on to worry about which bygone cartoon parody accounts they follow on Twitter.
Just last week, rumors John was robbed circulated all around the damn town. The story blew up after TMZ floated a story of an airport delivery driver stealing John's belongings that was later refuted by the singer himself.
He tweeted,
This story is untrue. We use a trusted a car service and they did not rob me. Our Delta greeter made a mistake and left a bag on the cart... The bag was taken because it was left unattended. The airport police caught the person who took it (on video) and retrieved my bag.
Using a screen grab of Lil Rel Howard's hilarious TSA character from "Get Out," John praised airport security for returning his things.
Keep putting out those Twitter fires, John and Chrissy. It's bizarrely become your second calling.
Citations: Chrissy Teigen and Arthur Throw Shade at John Legend's Easter Bunny Outfit (E!)