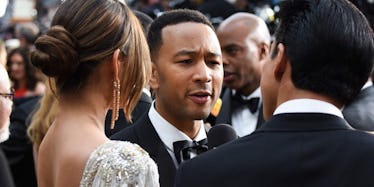 John Legend Tweets Exactly What Happened With His 'Airport Robbery' In NYC
REX/Shutterstock
Everyone chill your nards: John Legend wasn't robbed.
Media outlets reported the singer was robbed of $31,000 of personal items by a livery cab driver at JFK.
Not one to leave us hanging in suspense and deep, fraught concern, John hopped on Twitter and set the record straight.
Someone grabbed John's bag by accident after it was left on a cart by a Delta greeter.
The "La La Land" actor used a screen shot of Lil Rel Howery's hilarious character from "Get Out" to praise airport security's efforts.
He also called out TMZ for an initial report he was robbed by his driver.
Fortunately, John Legend is a kind and patient man. Whoever accidentally robbed him wasn't in for some horror show once he tracked down his belongings.
John's a lover and a listener with bigger priorities than a misplaced bag. In fact, John's wife, model and killer tweeter Chrissy Teigen, recently opened up to Glamour about her struggle with postpartum depression.
She described her fight to move, eat and participate after giving birth to daughter Luna in April 2016.
When asked what he did to support Chrissy through her postpartum experience, John said,
You have to be present. You have to be compassionate. You have to understand what the reasons for them feeling what they're feeling are. I think once you know the reasons, I think you can be more helpful in identifying what they're going through.
He praised her for being candid about her experience, knowing her words helped other mothers recognize their own struggle.
John said,
By acknowledging the pain that she's going through, in doing that she also acknowledges the pain that a lot of women go through after they have a child. A lot of people don't want to talk about it. A lot of people feel alone when they're going through it and for her to let people know that they're not alone, I think was really powerful.
Once again, the Stephens family prove they're America's true first family, though they continue to ignore my adoption requests.
Citations: JOHN LEGEND LUGGAGE STOLEN AT JFK (TMZ)