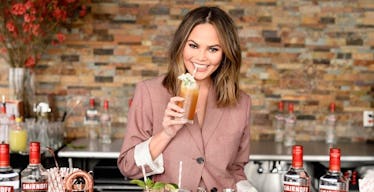 Chrissy Teigen On What It Means To Be Real, Relatable And Always True To Yourself
Getty Images, Dave Kotinsky
I exited the elevators on the 14th floor of a gorgeous warehouse overlooking the Hudson River in Chelsea, New York City, to find Chrissy Teigen perched by the window, her legs folded beneath her.
She was dressed in a pantsuit the color of cherry roses and spurted off the coach as I approached her.
"Hey!" she exclaimed. "I remember you."
The first time I met Chrissy was in October, 2016 and I was flattered -- yet surprised, of course -- to know she recognized my face.
She draped her arms over my shoulders and kissed me on the cheek while we reacquainted ourselves and I joked that I remembered her, too.
The Sports Illustrated model was in town to promote her partnership with Smirnoff's No. 21 Vodka, but I took it as a chance to catch up with an old pal.
We sprawled out side-by-side on the beige couches and rested our backs on the pillows behind us. I was wearing black and sweating through my blazer because one, it was pretty warm in there, and two, because my body was having a panic attack over breathing in the same oxygen as a real-life angel.
After a few laughs, I asked Chrissy to explain why she was the perfect person to promote Smirnoff and what it meant for her to be the face of this campaign. She perked up, sprung her elbows off her lap and told me,
It's not pretentious, it's not trying to be something it's not. [Smirnoff] doesn't come with the sparklers and the bottle that's frosted with the angel wings or anything... it's just real, it's relatable, it's cool, it's a very good vodka, it's been around forever, everybody loves it, it beats any of those other vodkas in any other taste test and it doesn't need to brag... they don't need to do that.
Chrissy stars in a series of commercials for Smirnoff, one in which she admirably shoves a giant burrito down her throat while sipping on a glass of vodka.
("Goals," I whispered to myself the first time I watched her inhale every bite.)
The two-minute video garnered a lot of attention because, well, it was relatable. How many times a week am I going ham on Chipotle and taking shots alone in my apartment? (Too many, but that's a conversation for later.)
The commercial makes it evident Chrissy's partnership with Smirnoff was a seamless fit. She reflected on the collab and said,
Not to toot my own horn, but we're both very relatable. For me, it's very important to trust the person who is selling a brand... I'm not in the position where I have to do anything that I don't believe in or love already. I've been a Smirnoff drinker forever and I have no qualms about it.
Chrissy made it clear Smirnoff not only loves when she can be her true, authentic self, but it encourages her to do so.
I love Smirnoff and I love they are so great and so open to the comedy side of things. They know people think there are many fancy vodkas out there that would beat them... we read a bunch of mean tweets the other day and I just love how self-aware they are. They're very self-aware and I love to think I'm very self-aware. They know what people say about them and we don't give a fuck.
If you take one look at Chrissy Teigen's Twitter profile, you'll know the 31-year-old doesn't hold back from speaking her mind.
She often retweets rude comments from online trolls and calls out dialogue she doesn't agree with.
Her social media following grows drastically every day because people support her bold stance on social issues. They want to join her fight against the middle-aged white men hiding behind their computer screens.
If there's one person in the world who I'd like to share a drink with, it's her.
Speaking of alcohol -- which arguably is my favorite thing on the planet -- I asked Chrissy for suggestions of what food I should chomp on next time I'm chugging vodka.
She shared,
Well, definitely anything fried is always good. I think salty and vodka go together very nicely... I tend to love the sloppier, more mobile-type foods. I think anything you can keep in your hands, like the burrito is where that idea came about, but fried food.
She stared into the abyss, eyes closed -- probably visualizing a bucket of mozzarella sticks being poured into her mouth -- and added,
Yeah, fried food is the go-to. It's such a nice refresher for it. I'm a salty person to begin with... I've never been a sweets girl.
We exchanged a glance and in that moment I knew something to be true: Chrissy Teigen was hinting she wanted to get dinner with me... it was just obvious, at this point.
I switched the conversation back to alcohol before we could solidify plans (I didn't want to embarrass her, you know? I have a lot of friends) and asked her what her go-to drink is.
"Easy," she said. "Pepper Thai."
Made with Smirnoff No. 21, fresh lemon juice, soda, a couple of basil leaves and strawberry pepper syrup, the Pepper Thai is a delicious drink even your parents would want to try... perhaps that's because it was inspired by Chrissy's own mother.
The star explained,
It basically encompasses all that is my mom on Twitter, on Instagram, on everything. It's this really nice bite of basil... it has this strawberry syrup in it and peppercorns that have been -- basically, for lack of a better word -- festering in this strawberry purée and it's so delicious, it has a nice little bite to it and it's really refreshing tasting, too, which is nice because obviously springtime is coming up and you want a lighter cocktail, not anything too crazy heavy.
Chrissy's mother, Vilailuck, starred alongside Chrissy in one of the commercials for Smirnoff as well. In the clip, Chrissy and Vilailuck enjoyed drinks on a "Mom's night out."
When asked about her mother's acting debut, Chrissy joked,
She has quite the attitude! She did such a good job... she was feeding me lines at one point... she was like, '1862!' OK, I get it! She was ad-libbing and stepping over my lines with her ad-libs. She took it very seriously, but she's so proud of it. It's cool to see her do her own thing and be proud of it, too.
Chrissy Teigen and Vilailuck seem like the perfect pair to guide little baby Luna into the world as she learns to say words more than two syllables. I know she's only 1 year old, but it's never too early to download Twitter. You should follow me, Luna. Just sayin'.
At the end of our chat, Chrissy asked to take a picture with me so she could remember the moment forever. I get it, Chrissy. You want to be my friend.
It's unclear if I'll be Chrissy's date to the Met Gala (still have to get my dress!) but I know she wants me to come.
John's a little jealous, so it might not work out, but I really think he should take the night off and let us ladies hit the town.
I'm free on Monday, Chrissy. And Tuesday... and Wednesday, well, all week, really... honestly pretty available for the rest of my life.
DM me on Twitter and we'll arrange something.