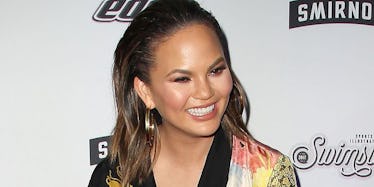 Chrissy Teigen Accidentally Flashed Her Nipples, But Definitely Doesn't Care
REX/Shutterstock
Chrissy Teigen's nipples are showing through this blouse she wore in public, and I really can't think of any celebrity who would care less.
Do you think a tiny nip slip is keeping Chrissy Teigen, a woman who arguably has the body of a goddess, up at night?
Do you think she's fretting over the thought the public now knows she has nipples? (Quiet gasp.)
Nah, man. Chrissy Teigen definitely gives less than zero fucks about this.
Here is the photo in question:
It was taken on Thursday, when Chrissy was in New York City for New York Fashion Week. Chrissy was wearing a sheer turquoise blouse and matching criss-cross skirt. She looked great, as always.
And yes, if you look closely, you can see her nipple through the blouse.
As a person who is in New York City right now, I can confirm it was quite chilly on Thursday — way too cold to go outside without a jacket. (I'm assuming Chrissy didn't want to wrinkle her outfit.) You can hardly blame Chrissy's nipples for protesting.
So now the whole world knows Chrissy Teigen has nipples, and there's absolutely zero chance she cares.
Here's how I know. You're talking about the woman who:
1. Literally posted a photo of herself naked on her own Instagram yesterday.
(Which she also posted on her own Instagram.)
Said nip slip was from when Chrissy and John Legend were at the Super Bowl in Houston watching the New England Patriots and Atlanta Falcons.
After some Twitter user zoomed in on her and posted it online, she responded, "boom goes the dynamite."
So I think it's safe to assume Chrissy will not give a flying fuck about this new so-called wardrobe malfunction.
Keep laughing, haters. Chrissy will just keep counting her paper.