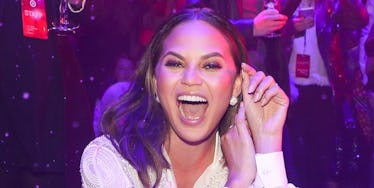 Chrissy Teigen Had A Nip Slip At The Super Bowl And Her Reaction Is Everything
REX/Shutterstock
I don't care how great your Super Bowl party was — Chrissy Teigen had a better time watching the game than you.
I mean, it helps that the model and her bae, John Legend, were in Houston to watch the instant classic between the New England Patriots and Atlanta Falcons, but Chrissy was absolutely LOVING it.
The problem was she maybe enjoyed herself a little too much.
TV cameras accidentally captured Teigen suffering a nip slip during the game, as revealed in a creepy video posted to Twitter, where a user slowly zoomed in on the nip and wrote, "The press box ain't save you."
Just think for a second about how many MILLIONS of people watched the game and may have seen a little more of Chrissy than they bargained for.
For many female celebrities, this is clearly a nightmare scenario.
But Chrissy isn't like most female celebrities.
In a hilarious reply, she was incredibly chill about her Janet Jackson moment.
Boom goes the dynamite, indeed.
But this was just part of an action-packed Super Bowl Sunday for Chrissy, who joked (?) she was "drunk" in a pre-game tweet.
Whether she was a little tipsy or not, she went on to provide us with some hilarious updates as the Falcons raced into a lead, before Tom Brady and the Patriots launched an insane comeback.
And I have to say, a new career as a sports reporter is hers if she wants it. Look out, Erin Andrews.
Chrissy posted a video in which she explained, "Things are happening," and the game was in the "25th quarter," all while eating a slice of pizza.
Brady may have been named Super Bowl MVP, but with her hardcore analysis and incredible comebacks, Chrissy reminded us she's the MVP of social media.
Keep doing you, gurl.