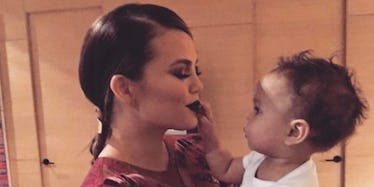 Chrissy Teigen Posts World's Most Adorable Pics For Baby Luna's First Birthday
Instagram
It's officially been one whole year since Chrissy Teigen and John Legend brought Luna Simone Stephens into this world.
On the one hand, I can't believe a year's gone by since Chrissy announced the news of Luna's birth on Instagram.
On the other hand, I've already seen so many pictures of Luna, I sort of feel like that kid should be at least 3 years old by now.
But it doesn't matter what I think! April 14 is baby Luna's very first birthday, and her mom and dad are celebrating with the cutest family photo shoot ever.
Chrissy shared four family photos in an Instagram post on Friday. (Be sure to scroll through the pics to make sure you get the full adorable experience!)
In the caption of the post, Chrissy wrote a sweet message to her now 1-year-old daughter.
She wrote,
Happy first birthday Lu!!!! My lovebug. You are all the best parts of the both of us and I cannot believe how much has happened in you first 12 months of life. We love you to the luna and back.
Chrissy went on to thank photographer Peter Yang for the pics and the team of Chrissy's show, Spike's "Lip Sync Battle," who surprised the family with the photo opp.
She wrote,
Thank you @Yopeteryang for taking these awesome photos and the lip sync battle team for such a nice surprise!!!
OK, but seriously, these are the cutest photos in the entire world. This is not an exaggeration.
LOOK AT LUNA'S LITTLE "ZOOLANDER" FACE!
AND THE CUTE LITTLE CLAPPING! I really can't handle this.
Are we sure she's only 1? This girl is a natural-born model already.
Clearly, little Luna is destined to be a star, just like her mom and dad.
Happy first birthday, little Luna! Congratulations on having the best celebrity couple ever as your parents.