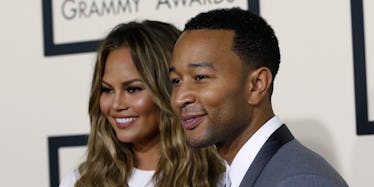 Chrissy Teigen And John Legend Share The First Photo Of Daughter Luna
REUTERS/Mario Anzuoni
This past weekend, Chrissy Teigen and John Legend welcomed their baby girl, Luna Simone Stephens, into the world.
Chrissy was probably the most relatable pregnant woman ever, but now we're excited to watch her become the coolest mommy. Ugh, I just love her so much.
I feel like Chrissy, John, and baby Luna are already the cutest family in the world, and we haven't even seen a photo of Luna yet. Well, UNTIL NOW.
Yup, that's right. Today, Chrissy and John shared the first photo of their adorable daughter, and she's too cute for words.
AHHHHHH, what a beautiful baby girl.
The caption reads,
hi my lulu!
Welcome to the world, Luna! We're so happy to have you.