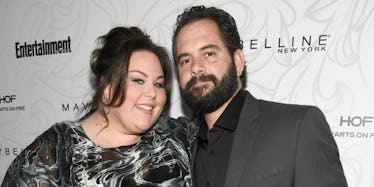 'This Is Us' Star Chrissy Metz Met Her Boyfriend On Set And The Story Is Adorable
Getty Images/ Frazer Harrison
This Is Us is easily one of the most obsess-worthy shows on TV. The plot lines are amazing, but the actors are what make it a one-of-a-kind series. They're all relatable and have made strong connections to their fans — on and off screen. In particular, people have a love affair going with Chrissy Metz who portrays Kate Pearson. Now, she's in love IRL... cue the wild rallying of support. Who is Chrissy Metz dating? His name is Josh Stancil and they met in the cutest way possible — at work.
Stancil is a camera grip on This Is Us and the two have been dating for almost a year. Their first red carpet appearance together was in Jan. 2017 at the Entertainment Weekly SAG Awards Pre-Party after dating for five months. It turns out Metz was more nervous about the attention than Stancil was. She told ET,
I thought, 'This is the first time that he's been out,' and I was nervous, because it's enough for one person to do it, you know, when you're in the spotlight, and then to bring a boyfriend, like, 'Oh my God!' ... I was more nervous than he was. He was just a pro and so congenial, and everyone loved him.
OK, so that's already boyfriend goals AF, but it gets better. While the two worked together, Metz was the one who made the first move. She confessed,
Well, I kind of made the [first] move. What happened [was] he was eating, and I was like, 'Ooh, he's [cute].' Because I talk to everyone, I love people. I don't care what you do, we're all the same, we just have different jobs. So I was like, 'Oh my God, he's really cute.' So I said, 'Slow down! You're going to choke on your food!' And he starts cracking up. And I was like, 'Why did I just say that?' And so we just started chatting and it was like instant.
Swoon. If I had a dollar for every time I said something embarrassing to a cute guy and it ended in a whirlwind romance... I would be absolutely broke. Although the two are definitely riding the love train express WOOT WOOT, things are business as usual on set. Metz and her TV boyfriend, Toby, have a lot of on-screen chemistry. When asked how Stancil deals, Metz said,
Initially, I was like, 'This is gonna be weird,' but he was fine with it. And then there was a really big kissing scene Chris and I did, who plays Toby, and he was like, 'I didn't like that.' He was like, 'Truth be told, that wasn't my favorite thing.'
I don't blame you, Josh, that's rough. These two still seem like they have a great relationship. Hopefully, we see Metz and Stancil at the 2017 Emmys on Sunday, Sept. 17. The actress received her first nomination in the Outstanding Supporting Actress in a Drama Series category. This topped off a total of 11 Emmy nominations for This Is Us. While this show has become a crazy success, Metz remains grateful. After the Emmy announcement, during an interview with Entertainment Weekly, Metz said this about her expectations when she signed on to the show,
[During] our first, second, third episodes, I was like, 'Oh my God, this is my absolute dream job and I don't know if I belong here!' I have to give credit to the [series creator] Dan Fogelman, to the writers, to the executives, because they really took a chance on this character and on a network show. I wouldn't be here if it wasn't for them, so it's overwhelming. There's so much gratitude.
Metz is definitely a beautiful person — inside and out. I'm happy she's found love and I can't wait to see what's next in her career.