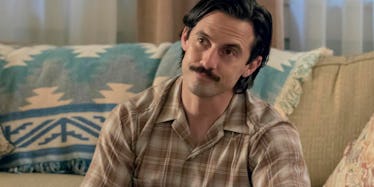 'This Is Us' Creator Spills Details On Season 2 And Where Jack And Rebecca Pick Up
NBC
Ever since This Is Us debuted last fall, I have designated Tuesday night as my crying night. It just makes sense, really, and my co-workers seem to like it because they don't have to hear me sobbing in a bathroom stall on Monday afternoons anymore. TBH, after the first few episodes I thought it was a fluke, you know a tear here, a tear there, but, by the time Beth read William's goodbye card to her, I knew the writers of the show were out to get me. For anyone who might have been hoping for a jollier Season 2, let me murder that dream right now. The cast and crew of the show recently let out some This Is Us Season 2 spoilers while chatting with Deadline, and, to put it simply, you better have a Costco size box of tissues on hand every Tuesday this fall.
The show's creator, Dan Fogelman, talked about what we can expect to see in the upcoming season, and he made it clear that "there won't be a paradigm shift" in the new episodes. In simpler terms, you gon' cry a lot. Fogelman went on to say the events of Season 2 will captivate us even more than the mystery surrounding Jack's death did in Season 1 (which I highly doubt, but... game on I guess?).
The creator got more specific about what we can expect to see from the Pearsons this season and spoke a bit about where this chapter picks up. So far, we know Season 2 begins, as Season 1 did, with a birthday, and the first episode will focus on Jack and Rebecca the day after their major Season 1 finale fight. There is a glimmer of hope for Jack and Rebecca after that screaming match, though, since Fogelman said of their fight, "You don't come back instantly from that, but that doesn't end a longstanding relationship."
As far as the Big 3, there will be plenty of developments in their storylines, as well. Indeed, Beth and Randall will be focused on their plans to adopt in the opening episode and, according to Fogelman, "the way they choose to do it is a complicated route." We'll also be seeing more of Kate's budding singing career.
Of course, there are still many questions that I hope we'll get answers to in Season 2: Will Toby and Kate get married? How did Rebecca and Miguel end up together? Is Kevin's relationship with his ex-wife going to work out? And, most importantly, what happened to Jack?
I guess we'll just have to try to watch through the tears this fall and hope we get some answers from the Pearsons.