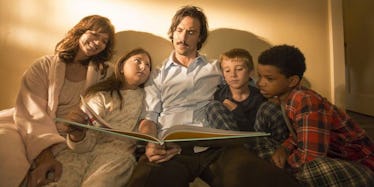 'This Is Us' Isn't Back On The Air Yet, But Fans Are Already Wondering About Season 3
NBC
Last year, NBC launched a massive hit, and now fans are eagerly awaiting new episodes to find out what happens to the Pearson family. This Is Us quickly became one of the most-watched new shows of 2016, as viewers from every demographic tuned in to ball their eyes out every week at each new, cry-worthy chapter of the family drama. With its freshman year behind it, the show is expected to clean up at the Emmys before heading into Season 2 at the end of September, but the drama was such a huge hit that NBC has already picked it up for a third season. If you're already looking ahead and wondering when This Is Us Season 3 will premiere, then I've got you covered.
Although no premiere date for Season 3 of This Is Us has been officially announced yet (it's still too early for that), fans can already get a pretty good idea of when it will hit their TV screens by looking at the show's other season premiere dates. Season 1 premiered on September 20, 2016, and Season 2 will premiere on September 26 of 2017. If the show continues as it has been, we can expect Season 3 to premiere on either the last or second-to-last Tuesday of September 2018, which would be either Sept. 18, 2018 or Sept. 25, 2018.
Thankfully, fans don't have to wait until 2018 to get their This Is Us fix. The second season is only days away from premiering on Sept. 26, 2017, and before then, the cast will be all together at the Emmys, where they're favored to take home a few awards. This Is Us is nominated for five Emmys at this year's ceremony, including Outstanding Drama Series. Stars Milo Ventimiglia, Sterling K. Brown, Chrissy Metz, and Ron Cephas Jones are also up for the major acting awards, so it's pretty likely we'll be seeing someone from the show take the stage.
The 2017 Primetime Emmy Awards will air on Sunday, Sept. 17 on CBS.