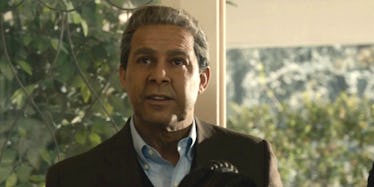 'This Is Us' Puts The Final Nail In Jack's Coffin, Promotes Miguel To Series Regular
NBC
In case you couldn't feel the impending doom of Jack Pearson's death coming before, the latest move by This Is Us should do the trick. The weepy NBC drama just promoted the actor who plays Miguel to a series regular for Season 2.
That's right: Miguel, the dude who replaced Jack as the father figure of the present-day Pearson family, is going to be around a lot more next season. So it only stands to reason Jack will be around a lot less — I guess that death scene we've all been dreading is coming sooner than we thought?
According to a report from TV Line, Miguel's actor Jon Huertas was just promoted to a regular for Season 2 of This Is Us. Miguel has become something of a punching bag to fans of the show, many of whom have come to see him more as a reminder of fan-favorite Jack's eventual death than as a character in his own right.
Most viewers of the show presumed Jack's death would be shown in the first season finale, but the finale ended with Jack still alive in the '70s flashback storyline after rekindling his romance with Rebecca.
Could this Miguel promotion mean Jack's death will finally be shown in the first few episodes of Season 2? Or, does it mean we'll be seeing more of Miguel hanging out with his BFF Jack in the '70s flashback storyline?
While that part remains unclear, we do know of another recurring character we'll be seeing a lot more of in Season 2 along with Miguel: Sophie. This Is Us also promoted Alexandra Breckenridge to a series regular for the upcoming season. Breckenridge portrays Kevin's ex-wife, whom he reconnected with halfway through the first season.
And there's plenty of room for the show to grow even more beyond this. NBC has already renewed its ratings hit This Is Us through Season 3. The second season of the drama will premiere on September 26.