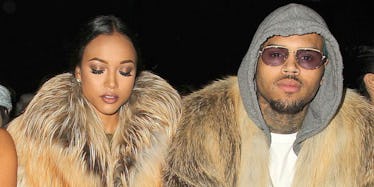 Chris Brown Threatened To Kill Ex-Girlfriend, According To This Leaked Court Doc
REX/Shutterstock
Chris Brown and Karrueche Tran are officially, completely, legally over.
The model allegedly made a sworn statement to a judge earlier in February that Brown "told a few people that he was going to kill me," insisting he was going to "take me out" and "threatened to shoot me," TMZ reports.
She told the judge her ex "punched me in the stomach twice" several years back and "pushed me down the stairs," roughly around the time the rapper was on probation for assaulting his ex, Rihanna.
Brown also allegedly threatened to hurt Tran's friends and threw a drink at one of them.
Tran now has a retraining order against Brown that requires him to stay at least 100 yards away from her, her mother and her brother.
The 27-year-old shared a video a few weeks ago that only serves to support his ex-girlfriend's allegations.
In it, he tells viewers,
Ladies, y'all be complaining about niggas being, like, stalkers, in love with y'all kinda crazy shit and get tired of it. Well, guess what, I'm one of them niggas. If I love you, bitch, ain't nobody gonna have you. I'ma make you miserable. I'ma chase that nigga out. I'ma chase your ass around.
So, none of this is amazing news from the standpoint of consent, abuse or domestic violence overall.
Brown's anger issues are well known at this point. They even cost him a role on the Starz series "Power" in 2016.
Fellow rapper 50 Cent initially promised Brown a role on the show, but executives stepped in before he could be officially cast.
A source told Page Six,
50 promised Chris a big role on 'Power,' playing a drug dealer. But 50 didn't consult the network first, and execs were not happy when they found out about it... The network insisted that Chris' casting was not going to happen because of fears about his anger issues. There was a big blowup, and they had to tell Chris he was not going to get the role. The news was delivered to him early Monday. He was livid.
Someone just cast this kid in anything that shoots on-location on the island from "Lost" while the rest of us keep an eye on Karrueche and her friends. Thanks.
Citations: CHRIS BROWN Karrueche Gets Restraining Order HE THREATENED TO KILL ME (TMZ)