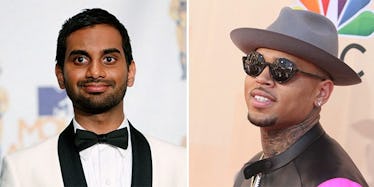 Chris Brown Slams Aziz Ansari After Trump Diss: 'Tell Aladdin Hop Off My Dick'
REX/Shutterstock
Comedy is amazing, and I'm not just saying that because I had a lonely childhood that drove me to pursue it as a career path instead of getting a therapist like a normal person.
Case in point: Aziz Ansari alleged Donald Trump was "the Chris Brown of politics," and Chris Brown turned around and proved himself to be the Donald Trump of the music industry.
Breathtaking symmetry like this doesn't occur often, but when it does, it makes us all question the existence of a higher power who cares whether we feel intellectually superior to two numbshits whose sustained success is baffling.
In his monolog on the January 21 episode of "Saturday Night Live," Aziz told viewers,
I'm sure there's a lot of people that voted for Trump the same way a lot of people listen to the music of Chris Brown, where it's like, 'Hey, man! I'm just here for the tunes... I don't know about that other stuff. I just like the dancing and the music. I don't condone the extracurriculars. If you think about it, Donald Trump is basically the Chris Brown of politics, and 'Make America Great Again' is his 'these hoes ain't loyal.'
Beautiful. Brilliant. Hilarious.
In the spirit of a 3 am Trump Twitter storm, Chris jumped on Instagram with a since-deleted video criticizing Aziz for the comparison.
He said,
I can't fucking catch a break. This nigga said, 'Donald Trump is the Chris Brown of politics.' I swear I'm getting the fuck out of here. Don't fucking trust what you see. Even salt look like sugar.
When The Shade Room shared a clip of Aziz's bit on Instagram, Chris reposted it, called the comedian "Aladdin" and told him to "hop off my dick."
Prior to the singer's reaction, the comparisons to Trump lacked that special racist quality The Donald has cultivated as a cornerstone of his persona.
Chris's choice to drag Aziz based on his heritage (his family is from Tamil Nadu, India) only serves to make the "Master of None" star's joke hit harder in retrospect.
TL;DR: Aziz Ansari is still hilarious and Chris Brown is still a bucket of dog barf.
Citations: Chris Brown Claps Back at Aziz Ansari for 'SNL' Donald Trump Comparison With Racist Remark (Us)